Georgia State of Mind: Home of payment processing
As Los Angeles dominates films, Atlanta dominates payment processing. Over 60 percent of payment processing companies in the U.S. call Georgia home and process 70 percent of all U.S. transactions. The global payment processing industry generates over $50 billion annually with a projected growth of $71 billion by end of 2015. These companies are valuable assets of the payments ecosystem and need to be protected and preserved. But how does one begin to do that?
Education and Advocacy.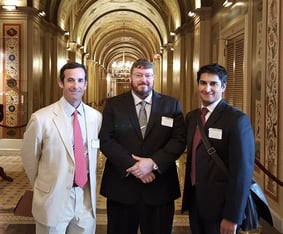 You might have heard or read about our recent "Mini" D.C. Fly-In that involved the Senate Payments Caucus. The multiple meetings that took place at the event, focused on cybersecurity legislation and recruitment for the payments caucuses in both the House and Senate. This mini fly-in on Capitol Hill helped foster support for the American Transaction Payments Coalition (ATPC) and their involvement in helping the Congressional Payments Technology Caucus (CPTC) with its mission of education and advocacy for the payments industry at the government level.
Who's involved: ATPC, CPTC and ETA
The three parties involved in helping educate the members of government include the American Transaction Processors Coalition (ATPC), Congressional Payments Technology Caucus (CPTC) and the Electronic Transactions Association (ETA).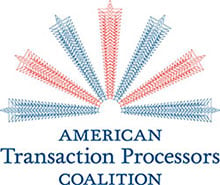 The American Transaction Processors Coalition (ATPC) represents the over 70 Georgia-based companies that develop the products and provide resources supporting the financial service industry's technology needs. The ATPC was created to protect, promote and preserve the interests of this critical Georgia industry through proactive public relations and government affairs activities. Current members of the ATPC include: Elavon, FIS Global, Incomm, Merchant e-Solutions, WorldPay, Ingenico Group, Vesta, and Bluefin.
Congressional Payments Technology Caucus (CPTC) was formed by Reps. Randy Neugebauer (R-Texas), David Scott (D-Ga.), Krysten Sinema (D-Ariz.) and Lynn Westmoreland (R-Ga.). The CPTC's mission is to explore the new and innovative technologies in the payments industry, as well as answer questions about cybersecurity, new technology, electronic payments and more.
While ATPC is more focused in the Georgia area, CPTC expands its reach at the national level. Payment processing companies such as Elavon and Worldpay have prominent voice in ATPC. Thierry Denis of Ingenico Group and Michael Wasserfuhr of Worldpay are also key board members for the ATPC bolstering the caucus in its mission to help elevate the dialogue and better equip congress to address issues that matter the most to American consumers.
Education: At state and federal levels
ATPC's primary mission is advocacy and education about the payments industry at the state and federal levels. Here's how:
At the state level, their mission is to educate lawmakers and government agencies about the industry as it relates to Atlanta.
At the federal level, it's more about helping to educate them on topics such as cybersecurity, EMV and more.
To put this vision into action, the payments caucus and Georgia-based companies such as Ingenico Group have sponsored multiple luncheons in the Atlanta and DC areas to host representatives from the state government and congressional staffers for informational sessions. These informational sessions consisted of presentations on topics such as payment innovation, cybersecurity, federal bills on cybersecurity, how a transaction moves through the ecosystem, etc.
What's Next: Where do we go from here?
To support their ongoing commitment to education and advocacy, the Coalition's next D.C. fly-in will take place in accordance with its board meeting on Nov. 4 – 5, 2015. If you would like to learn more about ATPC's charter, please visit the ATPC website. And if you have specific questions for me about this mission and the payments industry in general – feel free to submit your questions here.
Gregory Boardman is the Chief Technology Officer, North American / Ingenico Group