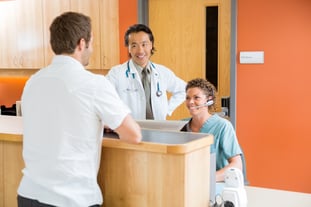 "Omni-channel" has become a buzz word in retail, but it's a concept with wide potential across many industries, including healthcare. Omni-channel, also known as multi-channel, is about being able to interact with customers through multiple communication channels. These include face-to-face or in-facility (in-store), mobile and online interactions. Omni-channel is also a means of providing customers with a seamless, consistent experience across all channels, which helps ensure outstanding service and builds loyalty.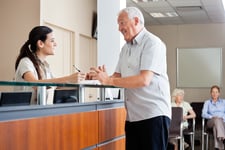 If you do business with retailers with any regularity, you've probably experienced this first-hand. Most retailers have brick-and-mortar stores and an e-commerce presence. Many also have mobile apps to reach customers wherever they may be, and some even have unattended solutions in their stores or at other locations to enable convenient self-service options.
Ultimately, all of these channels and strategies are aimed at providing customers with the convenience of shopping and securely paying for things wherever they prefer.
Healthcare is very different from retail, but there's a similar opportunity to leverage omni-channel strategies by learning some key lessons from retail. In this two-part blog series, I look to provide insight into lessons healthcare can learn from omni-channel retail. Part one will discuss why healthcare should embrace omni-channel and part two will discuss lessons healthcare can learn from an omni-channel architecture.
Let's take a look at reasons why healthcare should embrace omni-channel:
Managing increased patient responsibility: The healthcare industry has experienced a major shift in patient financial responsibility, which is driven largely by big changes in reimbursement models. As several recent reports have revealed, consumer payments to healthcare providers nearly doubled from 2012 to 2015, and insurance deductibles have increased by a startling 255 percent since 2006. This means patients are sharing more of the financial responsibility for care and having to make more payments. It also means healthcare institutions need to respond by making it as easy as possible for patients to pay for their care, which means going beyond traditional forms of payment acceptance.
Addressing the retail effect: Retail consumers can find product information, compare prices and make purchases virtually anywhere, even on a mobile device. As patients, they often expect a similar ability to compare healthcare institutions, check pricing, book appointments online and even use different methods to pay co-pays or balances. Retailers are constantly looking for ways to make it easier for consumers to check out, pay for products and services, and get on their way. Healthcare organizations need to do the same so they can meet changing patient expectations.
Accepting payments up front: According to J.P. Morgan's Key Trends in Healthcare Patient Payments report, the rate of bad debt for insured patients is increasing by over 30 percent per year at some hospitals. Collecting payments quickly and reliably is critical to covering healthcare costs and avoiding the risks and headaches of these bad debts. By being present on multiple channels, healthcare institutions can potentially charge patients up front for care, using mobile and digital channels. This facilitates prompt and proper payments while it helps increase efficiency by allowing healthcare staff to spend less time collecting payments and more time serving patients in person or over the phone.
The omni-channel phenomenon is growing and many industries are adopting this approach. Forward-thinking hospitals and clinics can get ahead of the curve and start reaching their patients on multiple channels with seamless experiences across the board. In my next blog post, we'll discuss lessons that healthcare can learn from omni-channel retail and how they can use them to create an effective payments strategy. Feel free to post any questions in the comments section below.
Jeffrey Fountaine is Director, Healthcare Strategy at Ingenico Group, North America