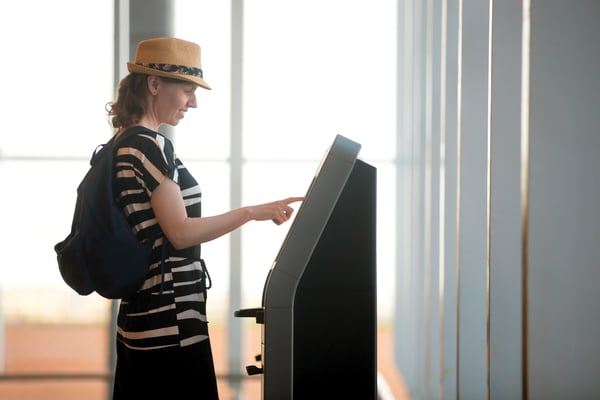 The COVID-19 pandemic, which began in early 2019, brought the hotel & travel industry to a halt. According to an AHLA report, almost 65% of hotels remained below 50% capacity during the peak of the health crisis. That, according to the same report, is below the threshold which allows hotels to break-even and pay debt. This resulted in mass layoffs and furloughing of employees in 9 out of 10 hotels. With many travel restrictions that were in place during the peak of the travel season, only 33% of Americans took vacations as compared to 70% in previous years during the same time.
While it may take some time before regular travel and hotel stays come back to the pre-pandemic levels, hospitality businesses still need to prepare for a post-COVID world. The health crisis has resulted in rapid changes in consumer behavior and guest expectations and businesses need to keep those in mind as they plan for the future.
Here are five ways hospitality & travel businesses can prepare for a post-COVID world:
1. Touchless Check-ins
Ever since limited travel resumed in the US, many airlines have been implementing strategies to curb person-person interactions and crowding. One of these strategies has been with expanding touchless check-in facilities. This allows travelers to check-in for a flight using a self-service kiosk and avoid any interaction with the airport staff. It also allows them to stay away from crowds and carry on to security checks quickly. While the touchless check-in feature has existed before, it gained more popularity and a new meaning during the health crisis. Touchless check-ins also extend beyond air travel to hotels, which enables guests to bypass the front desk with self-service kiosks and mobile applications. Guests can carry out their check-ins at a self-service kiosk without interacting with the front desk. They can also use the hotel chains' mobile app to check-in on their smartphones and use it as a room key. This way guests can arrive at the hotel and go straight to their rooms.
While contactless payments have been popular in other parts of the world, the US has been slow to adopt them. The COVID-19 pandemic accelerated the adoption of this payment method across all industries and also got consumers trying out mobile wallets, including Apple Pay and Google Pay. Contactless payments provide guests at hotels and hotel restaurants peace of mind when they pay. It also allows hospitality businesses to integrate loyalty programs with value-added services (VAS).
2. Using QR Codes
Most smartphones no longer need an additional app to scan QR codes – they can simply use their native camera app and visit the URL that is hidden in these codes. Even though, QR codes have been a popular mode of payment with many applications, their most basic function of leading to a URL has helped many hospitality businesses. Restaurants and cafés within hotels have incorporated QR codes encouraging guests to use their mobile phones and read the menus by scanning these codes making it easier and safer for guests.
3. Employee Engagement Tools
Among everything else, the pandemic tested employee communication and engagement in hospitality businesses. While dealing with the safety of employees and guests has always been the priority, effectively motivating and communicating to all employees is a close second. Some hotel and lodging businesses have taken advantage of third-party applications allowing them to connect to all employees across all departments in effectively managing and motivating them.
4. Health-Related Protocols
While health and safety guidelines around the US may differ from state to state, all hospitality businesses need to follow CDC guidelines so the arriving guests feel comfortable and safe. The practice of social distancing (when necessary) and frequent cleaning of the premises based on these guidelines is imperative not only for the safety of employees and guests but the perception of the business in the minds of travelers.
Travel in the Post-COVID World
While the pandemic may be a mere memory in the future, new guest behavior and expectations are likely to stick and change the way they interact with hotels and other hospitality businesses.
From getting used to touchless experience, mobile check-ins to engaging with their employees, hospitality businesses can also help guests feel safe and comfortable adding more to their overall experience. The use of these methods may be common among some hospitality businesses and hotel chains, but the challenge will come for those players who may not be prepared with solutions like these for the post-COVID world.
Learn more about different hotel, lodging and travel use cases that can elevate your hospitality & travel business in the minds of your guests. Get in touch with our experts and learn more.
Mike Ryan is Senior Sales Executive at Ingenico