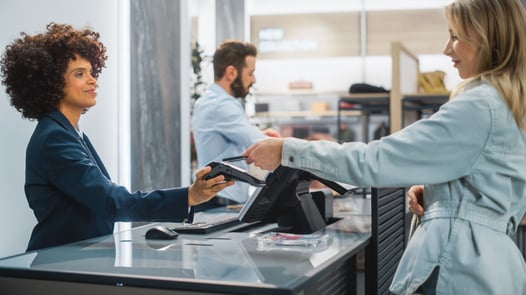 There are two factors that impact payment technology adoption: Whether users can use it and whether merchants can accept it. Tap to phone payments make both easier.

Why the Stage is Set for Tap to Phone
Consumers have embraced contactless EMV payments. Visa found in a 2020 survey found contactless transactions increased by 150 percent over the previous year.
Visa also found that U.S. consumers had 175 million contactless cards, and eMarketer reports that in-store mobile app payments surpassed the 100-million milestone in 2021, and predicts half of all smartphone users will use mobile wallets by 2025. Consumers can easily wave or tap their contactless cards or mobile wallets near a contactless-enabled payment device to make payments.
But it's more difficult for some merchants to accept contactless payments, particularly small and medium-sized businesses (SMBs) and mom-and-pop shops and micro merchants that may not have the budget for new payment devices. Accepting contactless payments can also be a challenge for field teams, like cab drivers, food truck operators, and home service and repair businesses when it's not practical to carry a payment device on the job.
Tap to phone has the potential to disrupt the industry and give smaller businesses and companies on the move a practical way to accept contactless payments.
How Tap to Phone Works
Tap to phone offers a way for businesses to accept contactless payments using only a smartphone. Merchants download an app, and then their smartphones act much like a payment terminal.
The solution leverages near-field communication (NFC), which is available on virtually all smartphones and tablets. This technology wirelessly reads data on contactless cards or mobile wallets when they're within a few centimeters of the merchant's smartphone – no dongle or other device attached to the phone is required.
Additionally, tap to phone is secure. The Payment Card Industry (PCI) has developed standards for contactless payments on commercial off-the-shelf (COTS) devices, PCI CPoC, which provides solution developers with detailed security requirements and test objectives, monitoring procedures, and software security standards.
Benefits of Tap to Phone for Businesses of All Sizes
Tap to phone is a game changer for SMBs and micro merchants. It allows them to offer best-in-class contactless payment experiences wherever they interact with their customers – at the counter, in the aisles, curbside, at a remote location, or at the front door. It also allows them to compete with larger competitors who meet consumer expectations by accepting contactless payments with more traditional solutions.
However, benefits aren't limited to small merchants. Enterprises can add tap to phone to their capabilities so that they can provide on-the-spot service and streamline checkout experiences.
What's the Outlook for Tap to Phone?
With PCI supporting tap to phone with security standards and card brands like Discover fully embracing this technology, it's likely that it will quickly become widely available.
According to Tim Dziubek, Director of Product Strategy at Discover Global Network, "Tap on Phone meets merchant demand, offering a cost-effective solution that allows business to be conducted nearly anywhere while enhancing the buying experience for consumers. Research commissioned by Discover Global Network shows 82% of merchants surveyed globally state mobile point of sale has helped drive new sales opportunities, while 85% of the same merchants say acceptance of contactless payments improved customer satisfaction. Given positive merchant sentiment, we anticipate significant growth in Tap on Phone over the next few years."
Furthermore, the cost savings, easy implementation, and convenience tap to phone offer merchants will enable merchants to capture sales at more touchpoints and enhance those customer experiences. And when more merchants accept tap to phone, more consumers can use them, and adoption will grow.
To learn more about how to be on the cutting edge of this emerging payment method, contact us.
Beatta Steffy is a Sales Director at Ingenico, North America