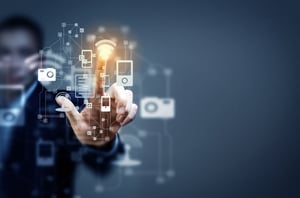 The Internet of Things (IoT) may sound daunting to someone unfamiliar with the tech industry, but it doesn't have to be that complicated. Plainly put, IoT is the network of connected 'things' which are embedded with sensors, software and network connectivity. This connectivity allows these devices to continuously collect and exchange data. Did you know that your Smartphone is actually an IoT device? With the steady rise of online retail giants, there is an overwhelming misperception that brick-and-mortar shopping is a thing of the past. Although online shopping has its clear advantages, physical stores are utilizing ways to advance their technology and keep their customers returning in-person. One of these approaches? IoT.
Today's retail landscape is not just about creating a completely new experience for customers, but evolving the existing one to align with current technology. With more than 30 billion devices expected to be internet-connected by 2020, retailers can take advantage of the devices that customers already have in their pockets along with a range of IoT enabled solutions to bridge the gap between eCommerce and the in-store experience. Here's how:
Inventory Management.
With customers expecting to leave a store with the product they came in for, it can negatively impact their experience when that item is out of stock. Tracking stock through smart or weighted shelves allows for significantly more precise inventory. In the U.S. alone, stores have a potential loss of $42B in opportunity because of inventory distortion. Walmart is already testing this smart shelf technology that can measure weight and count remaining inventory when an item is taken. RFID tags are also used for scanning products when removed from a shelf. This internet-connected technology reduces inventory error and frees up retail staff to engage with the customers, rather than running around in vain for out of stock items.
Loyalty and Couponing.
The advanced use of personal devices in stores can enhance loyalty programs with little to no effort by the customer. Online shopping websites already track and store consumer information to suggest products, offer coupons and keep up with loyalty and rewards. This convenience can be brought in-store by sending discounts to loyal customers when they stand near a product with their smartphone. IoT technology has the ability to track what a customer searches online to send them a discount that is personalized to their specific needs when they walk into the store. For even more exceptional service, in-store technology can determine customer 'dwell time'. If a customer pauses in front of a product or waits in a particular section of the store for an extended period of time, they may be considering a purchase or in need of assistance. The retailer can then intelligently respond to this data with a real-time incentive specific to the product being mulled over or alert a customer service agent to offer face-to-face assistance. Either way, the customer experience is the entire focus of the response.
Automated Checkout.
There's no doubt that the least favorable part of shopping in a store is waiting in long lines at checkout. According a recent survey, 62 percent of consumer respondents said they have left a store without making a purchase after waiting too long in line to pay. Wearable devices, such as a smartwatch, are capable of automatically paying for products so customers can avoid lines and just exit the store. Payment volume via wearables is expected to grow to $501.1 billion by 2020, creating a frictionless in-store experience. The same survey also highlighted that consumers who shop online also expect a seamless checkout experience in-store. Eight in 10 retailers in that survey agreed that contactless provides faster checkout for in-person payments (83 percent) and is more convenient for customers than paying with card or cash (84 percent). An even more automated process has recently been tested in grocery stores in Canada – smart carts. The IoT enabled shopping cart scans items, weighs produce, tallies the total bill and accepts payment. Customers save time by taking charge of their shopping experience. This is a significant draw for people who shop online for the convenience of effortless and automatic payment.
IoT brings a world of opportunity to retailers of all sizes. Shopping as we know it is slowly changing to adapt to the desires of today's consumer, and connected technologies are helping us get there. From keeping track of inventory to providing customized coupons and a seamless checkout, IoT is bringing the luxuries of online shopping to brick-and-mortar.
If you're interested in learning more about what advanced technology can do for your retail business, get in touch with us!
Christopher Tyghe is Vice President of Strategic Development at Ingenico Group, Canada