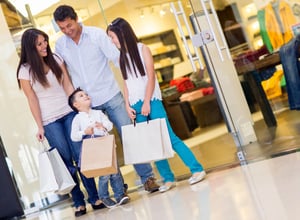 When a customer walks into a retail environment, they are looking for a fast, easy and secure experience. But the reality is quite different. Even though merchants put in their best efforts to provide an easy and seamless checkout, industry reports point out that the in-store experience isn't always up to snuff. According to a recent report from Hanover Research - Emerging Trends at the Point of Sale, even though customers may experience technological challenges at checkout, retailers need to invest time in educating them on the multiple payment options available. Typical customers might want to pay with a preferred method, but if they are not aware of whether the merchant accepts that or not, it may cause some friction at checkout and eventually lead to a negative experience.
To help retailers address these issues and enhance customer's checkout experience, let's take a look at three key findings from this report:
1. Frictionless Checkout Can Create Positive Customer Experiences
Consumers are fickle-minded as their needs are constantly changing. Keeping up with those trends is hard for any retailer, but not impossible. The research revealed that more than 50 percent of the shoppers indicate they have experienced technical difficulties at checkout – ranging from chip card to magstripe malfunction. While these hiccups do slow down the checkout process, they also contribute towards a negative overall shopping experience – which can adversely affect shopper-merchant relationships in the long run.
But there is light at the end of the tunnel. The research clearly shows that accepting contactless payments (including mobile wallets) could be a viable option for merchants to close that gap: 74 percent of shoppers who have used contactless payments find the technology fast and easy to use. Accepting contactless payments will not only speed up checkout but will help create an overall positive shopping experience.
2. Educate Customers to Help Increase Contactless Adoption
The study found that 84 percent of businesses now accept contactless payments and it won't be long until the payment method becomes even more pervasive in the U.S. According to another report by Juniper Research, the contactless payments market is set to triple to $6 trillion worldwide by 2024. While the adoption among merchants and customers continues to grow, the Hanover report highlighted that only 37 percent of consumers are aware of contactless payment methods. However, that number might look different as the pandemic has pushed merchants and consumers to adopt contactless and mobile wallets for contact-free payments.
Retail businesses need to spend time educating their customers about their payment options, especially when it comes to contactless. While the contactless symbol at the register is a good reminder, it often isn't enough. Many shoppers need guidance on where, why and how to use this payment method, along with the assurance that these methods are secure. Retailers that take the lead in educating their customers will be rewarded with improved loyalty, while those that sit back and wait, will risk falling behind their competition.
3. Reward Programs Are Key to Building Customer Loyalty
While attracting new customers is critical to any retail business, building loyalty with existing ones is is critical. Historically, rewards programs have been successful in driving loyalty and increasing merchant-customer engagement, and the Hanover research confirms this. Over the years, consumers have also started expecting rewards across multiple industries – whether they buy groceries or gas or stay at a hotel. Also, consumers want flexibility with reward points – they want to earn them easily and use them when and where they want to, without any friction. The Hanover study found that consumers still face obstacles when as it relates to the rewards programs that result in negative shopping experiences. Some of the common challenges include - too many promotional emails and highly restricted spending options. Retailers can resolve these by redesigning their rewards programs to better suit their customers. One of the key ways merchants can achieve that is with value-added services (VAS). When integrated with mobile wallets, VAS enables customers to easily enroll and redeem rewards in loyalty programs.
Make Retail Checkout Smoother
Positive customer experiences are not so uncommon today – and they can happen in any buying environment – retail, hospitality, restaurants, etc. However, this pushes consumers to demand the same from all other environments. How they want to pay, what they want their rewards to look like and how they want to discover new products is constantly changing. The key to succeeding with your retail customers is identifying those gaps between the experience you think you are creating in-store and what actually ends up happening in reality. This is the first step to building an effective strategy for payment acceptance and positive customer experience.
If you are looking to learn more about enhancing your payments and customer experience strategy, get in touch with us.
Skip Hinshaw is Head of NAR Customer Engagement at Ingenico Group, North America