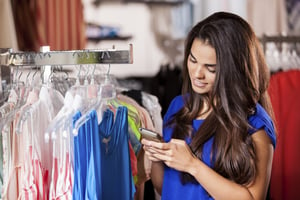 Shoppers today want and expect a consistent, seamless experience across all channels they use for shopping – online, mobile, social and in the store. To retailers, it's omnichannel. To customers, it's just how shopping is done these days and retailers who can't deliver will find themselves falling behind.
Consumers want to move freely from one channel to another without having to start over each time they switch. That might mean starting a conversation online through chat and continuing it with a toll-free call or "click-to-dial" connection to customer service. Or it can mean starting the buyer's journey by browsing your eCommerce site, then visiting a local store to experience the product first hand before making a purchase they can take home immediately.
Omnichannel in Action
Here's an example of how an omnichannel experience can play out.
It starts with Joe browsing online for a new blue blazer. He might look at several retail websites, including Amazon, as well as browsing websites from menswear brands. But he decides to try on the garment prior to purchase rather than ordering online, waiting and possibly having to return it. So he goes to your website because he is a frequent shopper and a member of your loyalty program.
After browsing through the variety of blazers offered, Joe finds the one he wants and confirms that it's available at the store closest to him. When he arrives, he's greeted by a sales associate equipped with a tablet. She loads his loyalty information and sees his online browsing history, brand preferences and size — along with the store's real-time inventory for the blazer he wants to buy.
With this information, the associate locates the right blue blazer in Joe's size, along with a shirt, tie and pocket square that compliment it nicely. In the dressing room, Joe uses his mobile app to look for discounts from the loyalty program and any other in-store special offers and shows the results to the sales associate. Using the tablet's integrated loyalty and mobile POS capabilities, she registers the available discount and purchase points and accepts Joe's payment from his mobile wallet right there on the sales floor.
What about Showrooming?
What about those customers you see in your store heads-down on their phones? They may be showrooming — visiting your store to experience a product hands-on before completing the purchase online at a better price – possibly from a competitor. Offering an enticing in-store experience and immediate product availability, backed by great customer service, can convert a showroomer to an in-store buyer. Just as effectively, retailers can use that mobile shopping channel to offer incentives like "buy it now" discounts and capture the business.
Omnichannel is Where Retail and Technology Come Together
Creating an omnichannel experience like the one Joe had means integrating customer history, product information and inventory data in real-time across web, mobile and in-store environments. This is not a trivial investment, but it's one brick-and-mortar retailers need to make to stay in the game. It's this data that supplies the personalization necessary for omnichannel retaling.
Omnichannel also means equipping sales associates with connected mobile POS devices to help them engage with customers and increase sales. Whether smartphones or tablets, mobile devices can enable associates to look up inventory availability, product features, pricing and special offers while interacting with customers on the sales floor. Sophisticated solutions driven by data integration will include personalization with information such as buying and browsing history.
Adding mobile POS capabilities to those devices brings the checkout process to the customer at the moment the buying decision is made. This enables the associate to extend personal interactions throughout the shopping experience while avoiding the possibility of the customer reconsidering the purchase on the way to the checkout line. The result is an easier, faster buying process for the consumer and greater revenue opportunities for the retailer.
Learn more about how you can use technology to reinvent the retail store experience. Download our white paper, "Ignore the Fake News About Retail: The Store is Here to Stay" today!
Thomas Luke is Senior Sales Executive at Ingenico Group, North America