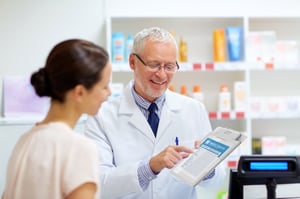 Whether you have the flu or a broken ankle, hospitals and care facilities around the globe work tirelessly to provide you the best care possible. But like any other industry, healthcare also needs to keep abreast to new technology trends that elevate the quality of care, enhance patient experience and create operational efficiencies.
One of the big trends in the healthcare industry is the use of mobile devices by hospitals and other care facilities to enhance the patient experience and improve operations. According to a recent study by Zebra Technologies, the usage of mobile devices is expected to grow up to 40 percent for all hospital workers by 2020. Use of these devices (such as handheld mobile computers, tablets and mobile POS solutions) by physicians, nurses and other healthcare professionals at the point-of-care is being known as 'clinical mobility.'
Clinical mobility solutions equip healthcare professionals with the appropriate tools they need to do their job effectively with the added bonus of mobile flexibility. According to the study, 72 percent of respondents cite improved quality of patient care as a direct result of clinical mobility. Additionally, 61 percent of hospitals surveyed reported a reduction in medication administration errors and 52 percent cited decreased specimen collection labeling errors, positively affecting patient care. Clinical mobility can help healthcare providers in many ways:
Use of Mobile Devices: Using mobile devices, such as tablets, can help nurses provide more accurate information to the patients and family members wherever they are. This improves patients with confidence and can also give them peace of mind knowing they have easy access to details of their treatment. With rich apps that run on these devices, hospital staff can also monitor their patients more effectively giving them additional flexibility.
Improve Internal Communication: Medical and administrative errors in healthcare settings can be problematic. According to the Joint Commission, 70 percent of medical errors are attributable to communication breakdowns. With the adoption of clinical mobility, hospitals and clinics can eliminate manual, error-prone procedures with digital solutions that increase the accuracy of patient identification, streamline processes and improve internal communication. These solutions can also digitally capture information and transmit the data in real-time to clinical staff, reducing errors and delivering critical time savings.
Enhancing Patient Care & Experience: Clinical mobility aims at enabling hospitals and clinics to deliver better care with enhanced patient engagement and improved efficiency. According to the study mentioned earlier, tech-savvy patients are comfortable with this technology being used and 95 percent of them are willing to even share electronic health metrics. The digital nature of these records makes it easy for providers to access them and reduces the time typically spent trying to locate physical copies – leading to faster diagnosis and delivery of care. This speed and accuracy can help providers be more efficient but also give peace of mind to patients and their loved ones. Clinical mobility also allows care providers to spend more time at the patient's bedside with the information they need at their fingertips in order to provide better care.
Tackling Bad Debt: Healthcare providers are experiencing a major shift in a patient's financial responsibility. This is happening due to the significant changes in the reimbursement model, but there is so much more to consider. According to TransUnion Healthcare analysis, patient balance after insurance or PBAI rose from 8 percent of the total bill responsibility during the first quarter of 2012 to 12.2 percent during the same quarter in 2017. Non-payment of these balances can lead to significant debts for the providers. While bigger measures will be needed at a higher level to help reduce this debt, clinical mobility solutions can help tackle some of these payments. For example, mobile POS can help providers accept electronic payments wherever the patient might be - whether they are paying a co-pay while visiting a clinic or paying before being discharged from the hospital. They can also be used to set up payment plans to ensure larger bills can be paid more efficiently.
Proliferation of Mobility
Mobile technology has enabled other industries, such as retail and hospitality, to offer their consumers more unique customer experiences. as these experiences become more pervasive, people will slowly start to expect similar conveniences in healthcare settings, and clinical mobility is a great way to get started. Solutions ranging from tablets, smartphones and other devices that serve different functions, can help providers improve care and patient experience.
If you are looking to integrate clinical mobility with payments in your hospital or clinic, contact us and talk with our experts.
Brandon Zauche is a Sales Executive at Ingenico Group, North America