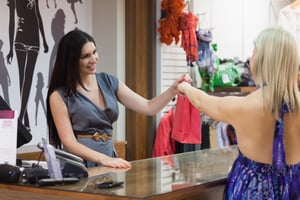 The holiday season is upon us and it's one of the busiest times of the year for most retailers and NRF forecasts retail sales are likely to grow between 3.8 and 4.4 percent in 2019. With more shoppers come into the stores this year, merchants get additional opportunities to delight them with great experiences.
But let's pause for a moment. This year's holiday season is coming soon, and you've already locked down your retail strategy for this year. You've either already implemented technological solutions to help enhance shopping experiences or decided not to pursue them for this year. But this shouldn't stop you from preparing for 2020's holiday season. Looking back at the trend of how the holiday season has performed in the past few years, it's most likely that it will continue to grow every year. This is a great opportunity and your business needs to be prepared for it. But you have to start now.
Here are a few things you need to keep in mind while you build your retail strategy for 2020:
1. PCI Compliance
In conversations with industry experts, we've learned that many merchants are still leveraging PCI PTS 3x or 4x solutions while PCI PTS 5x solutions have been on the market for a few years. As cybercriminals become more sophisticated, payment security has also evolved to find ways to combat them. By keeping your payment solutions in accordance with the latest PCI standards, you create a safer environment for your customers to pay and protect your own brand image. With every update to these standards, the council also heavily fines businesses as a consequence for non-compliance. For 2020, you should make sure your solutions are compliant and ensure your roadmap plans include investing in the latest PCI standards. (even if it means upgrading your payment infrastructure.)
2. Future Proof with Alternative Payments
There are multiple payment methods consumers prefer to use and it is important for merchants to make sure they accept as many as they can. This not only makes sure customers have free reign to pay the way they want, but it also makes your solutions future-proof. Contactless payment adoption among consumers had been growing slowly and steadily but with the rise of wearables and the use of mobile wallets, it's likely to gain additional popularity over the next few years. In addition to contactless methods, merchants should also consider accepting P2P payments via apps such as Venmo, Zelle, etc. and evaluate China UnionPay and Alipay acceptance as options.
3. Consider Estate Management Solutions
In today's day and age, you are constantly looking to make your business stand out with innovative experiences driven by technology. With multiple types of solutions (mobile POS, kiosks, etc.) in your arsenal, managing them can be cumbersome and become a greater challenge during the busy holiday season. Consider implementing an estate management system that allows you to better monitor and manage all your payment solutions. These systems provide centralized remote terminal management customized to your business needs. It can help you monitor the OS, applications, security keys, custom content, etc. and even help cut costs with remote helpdesk and stock management.
4. Learn from Operational and Technological Failure
Bill Gates, once said, "It's fine to celebrate success but it is more important to heed the lessons of failure." Retail is booming with new shopping experiences and the holiday season is the real pressure test for them. No matter how well prepared you are for this season, there will be obstacles at various levels including in operations and technology. For example, long lines can lead to slowdowns in checkout, an issue with inventory tracking software can adversely affect customer service and so on. When issues arise that cause too much friction in their experience the customer may just abandon their carts and walk out. Learning from these instances can help you better prepare for 2020 and beyond with a more refined strategy that accounts for similar situations in the future.
Preparing for 2020
The holiday season can sneak up on your business and provide you with unpredictable challenges. By planning a year in advance for operations, technology and other aspects of your retail business, better prepares you for the holiday season and gives you the breathing room to focus on providing your customers with good shopping experiences.
Drop us a line and let's discuss what you want to achieve in your retail business in 2020.
Thomas Luke is Senior Sales Executive at Ingenico Group, North America