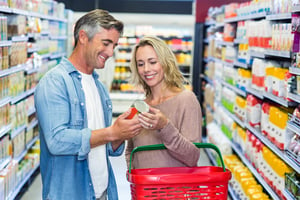 While most retail industry players faced business challenges as COVID19 surged in the U.S., grocers experienced growth. These stores followed guidelines around social distancing, store capacity and even added contactless payments and curbside pick-up options available in many instances for safe shopping.
These adaptations to how consumers shop will play a part in shaping the future of grocery. We looked a few industry articles that discuss major trends and technological offering in the industry that is changing the way consumers buy:
Due to the pandemic, ride-sharing services such as Uber have had their share of challenges in getting customers. In addition to delivering food via Uber Eats, this ride-share giant announced that it will pilot grocery delivery in partnership with a start-up Cornershop.
Following many national grocers such as Publix that enabled contactless payments in their stores this year, Kroger Co. is piloting this payment method across its QFC chain of stores. Customers at these stores will be able to pay using their contactless cards and mobile wallets such as Apple Pay, Google Pay, etc.
To take cashier-less shopping to the next level, Amazon is launching smart shopping carts called Dash Carts that will be embedded with cameras, sensors and a smart display that automatically track a shopper's order. These carts will allow shoppers to skip the checkout line entirely as the technology will automatically
The COVID19 crisis has forced grocers to change the way they do business – which they hadn't done in a long time. This new era not only forces grocery businesses to think about technological advancements in-store and online but also reimagining the entire shopping experience.
If you are looking for grocery industry resources around COVID19, please visit this page from the National Grocer's Association.
If you are looking to create new shopping experience in your grocery store and need to speak with an expert, get in touch with us.