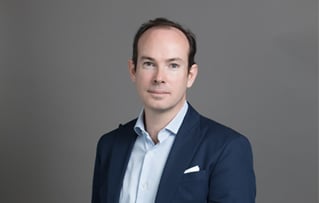 I've worked for several fintech companies, often in turbulent times, but I don't believe I've ever seen our industry in quite as extraordinary a place as it is right now. We live in a time of global commerce and connectivity. Understanding the complex forces driving our industry will give you the power to shape what success means. As one of the global leaders in payments, we've identified the four main trends that are creating what we call The New World of Commerce. Over this series of blogs, I'm going to discuss each of these trends in turn. Understanding this new world will put you in the best position to grow – now and in the future.
Force One: Technological Advances
Technological progress has never been more rapid. Yesterday's innovations are today's minimum requirements. Artificial Intelligence (AI) was the next big thing not too long ago, and now people are comfortable buying through a chatbot. And consider the worldwide explosion of smartphone wallets and mobile POS over the past few years.
What's more, a lot of this technology has been democratized. The rise of software-as-a-service and plug-and-play solutions means that just about any business can cheaply and easily implement the latest technology. It's not enough to just keep up with technological progress anymore. You must keep looking for, and defining, what the next big thing is.
Force Two: Changing Consumer Behavior
Customer behavior moves with technological change. New innovations set new precedents for what people expect. The next gadget could be the most popular way to pay, and the experience should be intuitive and consistent regardless of which device is being used. Companies like Uber, Amazon and Airbnb have changed the game by turning payments from a blocker to an integral part of the customer experience. Just think how social commerce, gamification and mobile apps could enhance this even further.
Today's cutting-edge technology influences what customers want. We may even see the actual payments part of the buying process become passive or invisible. Keeping on top of how technology changes is one thing but understanding how it changes customer behavior is crucial to staying on top. This is as true of the rapidly changing digital landscape of Asian markets as it is of mature markets like Europe and North America. If you are not one step ahead of these changes, you'll be missing out.
Force Three: New Regulations
The increasing amount and complexity of regulation is something that affects everyone, from the smallest customer to the largest retailer. And while regulation is always front of mind, people tend to be uncertain over the practical implications. New rules need to be interpreted and then applied, which is where confusion can creep in. Understanding the practical implications of new regulations before they arrive is crucial.
It's also important to anticipate how regulation will change over time and what factors will be next in line for consideration. For example, GDPR affects the way organizations utilize customer data and how AI is used to make business decisions. At the same time, regulation can drive innovation, as we're seeing a range of new products emerging as a result of Open Banking.
Force Four: Competition
The democratization of platforms and technology has lowered the barriers to entry and created more competition than ever before.
The start-up boom has changed how we think about business models, too. Two people in a garage could be as big a threat as a global conglomerate. When everyone wants a piece of the action, and competition can come from any direction, companies must get smarter about how they differentiate.
A Brave New World
The new world of commerce is a fast-paced, highly competitive place - that's what makes it so exciting. At Ingenico, we know it's not enough to focus on just one thing. We need to look at the bigger picture and stay on top of the forces shaping our industry. This way, we will lead the next wave of disruption, rather than be disrupted by it.
Gabriel de Montessus is the SVP, Global Online (Retail Business Unit) of Ingenico Group