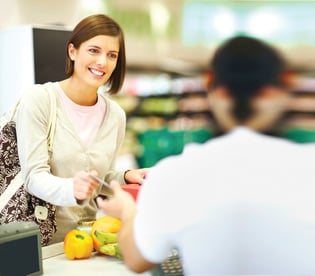 You're standing in a long line at the grocery store with a can of cranberry sauce, a gallon of vanilla ice cream and a pumpkin pie in your basket. You're there on busiest grocery shopping day of the year, the day before Thanksgiving, and even though you are in the express lane, it's moving slowly. The result is likely to be a long wait and a poor checkout experience.
That can be costly for the store operator. A Forrester Research study found that checkout experience ranked third in the most crucial factors influencing the decision of where to shop (behind location and price), with 85 percent saying it is very important or important. Moreover, half of the shoppers surveyed are willing to walk out rather than waiting for a slow checkout. Can grocery stores go beyond the traditional checkout experience and delight customers?
Technology Can Help Make Checkout Better and Faster
Grocery checkout is an inescapably manual process that can be painfully slow, even with fast scanners and staff trained for speed — unless the store is an innovator. Taking advantage of payment and other technologies can make checkout faster and improve the customer experience, whether it's on other crowded shopping dates like the day before the Super Bowl, Christmas Eve and July 3rd — or just a normal peak crowd on Sunday at noon.
Fast (or so it seems)
Self-checkout lanes. Many grocery stores now offer self-checkout, and a lot of customers have gotten on board - 77 percent of consumers would be very or somewhat comfortable in a retail setting where only self-checkout technology was offered. While self-checkout typically is not really any faster than the Express Lane, it feels faster and more convenient to the customer. With an alternative to standing in line, self-checkout customers are less frustrated when they take charge to scan, bag and pay for groceries themselves.
Faster
Contactless payments. With new initiatives for contactless card rollouts, wearables increasing in popularity and smartphones seemingly always in the hands of customers, accepting contactless payments can speed the process at checkout. The customer taps a mobile device or contactless card to make the payment. POS systems that accept EMV chip cards are usually already equipped to accept contactless payments, easing acceptance by the industry.
Digital coupons. Scanning all those paper coupons after waiting for the customer to get them organized adds minutes to the checkout process. The faster alternative is providing digital coupons through an online account, loyalty card program or mobile app. The coupons can be redeemed digitally in the store and processed automatically for a faster experience.
Fastest
Mobile POS. When lines get long and customers look ready to abandon their carts, checking them out where they stand can save the sale. With a mobile POS device equipped with a scanner, roving employees can check customers out on the store floor and send them on their way. This solution works well with customers who have a few items in the cart and bring their own bags, and it increases customer engagement as well.
Scan-and-pay. This checkout technology puts the entire shopping process in the hands of the customers, and some grocers have already taken advantage of this alternative. Customers use an app on their smartphones to scan items as are selected, then generate a total and pay on the spot — skipping checkout altogether. Alternatively, the app can generate a QR code for the shopper to scan in the self-checkout lane and then pay by card. Scan-and-pay programs can also link to loyalty accounts, digital coupons and store promotions plus offer features such as list-building.
Frictionless
Cashier-less checkout (pick-and-go). It all started with Amazon Go. Now other grocery chains are experimenting with cashier-less checkout powered by artificial intelligence (AI). First, the shopper checks in by scanning a code upon entering the store. The technology then uses cameras alone or a combination of cameras and shelf sensors to follow the shopper through the store. The system registers and tallies up items as they are placed in the cart and then when the shopper leaves the store, it automatically processes the payment transaction. It's the ultimate in frictionless shopping.
Where to start
With customers perpetually short on time for shopping and ready to make a switch if lines are long or the experience isn't to their liking, grocery retailers large and small need to consider what technologies they should apply to stay competitive. Talking with a trusted payment technology partner is the first step in deciding which of these options is best for your business. To learn how you can delight your grocery customers with technology solutions, get in touch with us and let's talk about your business needs.
Anthony Walsh is the Vice President of Sales at Ingenico Group, North America