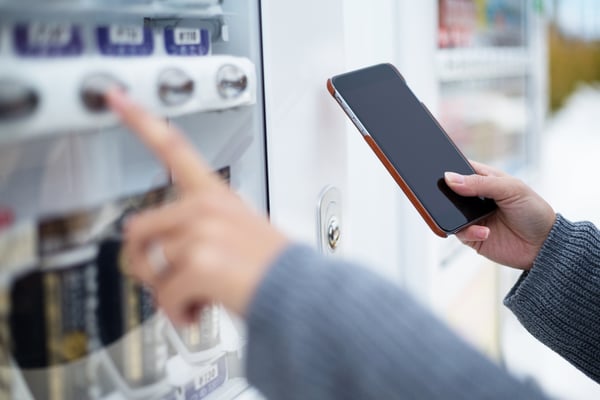 Kiosks bring a part of the digital shopping experiences in-store as well as providing a sanitary, socially distanced way to pay.
The vast majority of consumers are omnichannel shoppers – and the pandemic convinced many of the holdouts to give it a try. Statista reports that as of June 2020, 15 percent of shoppers used "buy online, pick up in-store" (BOPIS) more so than before COVID-19, and 9 percent now take advantage of curbside pickup more often. Creating seamless processes for these consumers who start their shopping journeys on one channel and complete it on another requires insight and planning, but it also takes the right technology, such as retail kiosks and contactless payment solutions integrated with the applications you develop.
Excellent, Socially Distanced Customer Service
Consumers who shop online are accustomed to the ease, convenience and speed of engaging on digital channels. Yet, Invesp reports that 72 percent of digital shoppers consider the in-store experience the most important part of making a purchase. Retail kiosks can close the experience gap between online and in-person shopping. When consumers arrive at a brick-and-mortar store to pick up online orders, kiosks allow them to check in immediately and promptly receive service. Kiosks are also an additional touchpoint with shoppers, providing opportunities, for example, to invite the customers to join a loyalty program, activate an offer, or place orders.
Kiosks also enable consumers to pay for their purchases without interacting with a sales associate – or handling cash or cards. This is a distinct advantage for retailers in the post-COVID-19 era.
The kiosks we're familiar with in grocery stores and airports will begin to leverage contactless payments. This technology eliminates an additional point of contact with a touchscreen and lets shoppers quickly tap their card or smartphones to complete a transaction.
Although consumers are usually instructed to use their smartphones or contactless payment cards to "tap to pay," Internet of Things (IoT) technology makes it possible to pay via wearable or ID fob -- or even their cars as they pass by a kiosk before curbside pickup. Now that consumers have developed a new awareness of items or surfaces that could be unsanitary, and businesses that implement these types of payment systems, reducing potential points of exposure to COVID-19, will earn their customers' trust. As retailers open back up, we'll see more of them take advantage of kiosks to meet consumer demands for safety at checkout.
Kiosks and Contactless Payments Aren't Just for Retail
While there's no doubt that kiosks provide benefits to retailers and their customers, kiosks capable of accepting contactless payments also provide advantages to businesses in a wide range of verticals. For example, kiosks have proven value for:
1. Quick Service Restaurants
Kiosks enable customers to place their own orders rather than interacting with an employee at the counter. Kiosks help to keep lines short, provide full, illustrated lists of modifiers and sides, consistently upsell – and increase average orders by as much as 30 percent. Add voice and contactless payment technology for a touch-free, sanitary experience.
2. Parking Garages
Traditionally, drivers are required to interact with a ticket barrier when they enter a parking garage and hang onto the ticket for the duration of their stay. When they want to leave the garage, they must interact with a pay station or exit barrier by inserting the ticket and paying with cash or a card. Parking pay station kiosks can give drivers the ability to tap a card or smartphone when they enter and again when they exit to complete the transaction.
3. Non-Profit Organizations
Tap-and-go donation kiosks create a frictionless experience for people who want to make charitable – and socially distanced and sanitary -- donations in shopping malls, restaurants or even on street corners. During Wallace & Gromit's Grand Appeal for the Bristol Children's Hospital in the UK, unattended contactless donation points around Bristol saw a 309% increase in donations.
Meet the Demand
Merchants who leverage your applications may be looking for new ways to engage clients during social distancing, streamline omnichannel processes, or operate with fewer resources as they recover from the economic shutdown. Or, your users in other vertical markets may be looking for the most convenient and sanitary way for their customers to pay.
Your customers may also be looking for ways to make brick-and-mortar shopping experiences more on par with digital shopping to provide their customers with greater convenience and to collect data and engage in-store shoppers more easily.
Retail kiosks equipped with contactless payment capabilities and your software may be just the solution they need. If you're looking for assistance in bringing together a best-in-breed hardware, software, and payment processing solution, contact us.
Pete Alcock is Head of Product Marketing at NMI