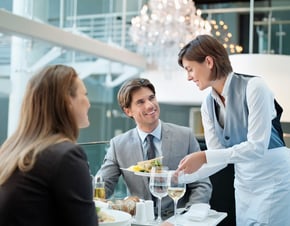 Running a restaurant is tough, and public reviews about it can make or break the business. With over 100 million reviews on Yelp, 'restaurants' is one of the most-reviewed categories on the site. People love talking about their experiences and adding to the conversation.
Bad reviews for a restaurant are like rust on a boat – if you don't take any remedial measures, it will spread and destroy your boat. Similarly, these negative reviews have the potential to adversely impact your business. If a bad review reaches the Internet and gains popularity on popular websites such as Yelp, Google or Facebook, it is a little too late for you to do much about it. But maybe you don't have to let it get to that point.
As a restaurant owner, you are on your toes to keep your business improving. Whether it is implementing new technology to assist with food ordering or it is just managing payroll or even training your staff regarding key customer service aspects, every business needs to continuously refine their strategy to grow and succeed in this dynamic market. Listening to the customer and gathering their feedback in time is key. Here are a few ways restaurants can gather feedback from their customers and use it to refine their strategy:
Front of the House: The front of the house in a restaurant is tasked with dealing with the customers right from when they step in. Seating them at their table and making sure they are comfortable is their prime concern. By having a manager or maitre'd simply ask your guests about their experience as the meal progresses, you provide an easy opportunity to fix any issues they may be dealing with. If they are not satisfied with their meals or are simply annoyed with slow service, your staff can quickly address those issues before they turn into a scathing online review.
Pay-at-the-Table: Food ordering and payment acceptance in many restaurants have changed over the last few years. Moving on from the traditional pad and paper, many servers now take orders on tablet devices that are connected to the restaurant's central ordering system. Some businesses also accept payment via tablet POS solutions. This is a great opportunity for your restaurant to gather feedback while engaging the guests. You can capture their review on these tablet POS solutions while their payment is being processed, making it easy for customers to provide feedback before they leave
CRM Systems: As your restaurant collects this customer feedback, it is very important for you to organize it to make the best use of it. Many CRM software solutions can help with this task and they are intuitive, easy to use and are built with the restaurant business in mind. This data collected can help you look at broader themes from the collected feedback and enable you to solve common issues raised. For example, maybe feedback from five tables on one night mentioned slow service which may encourage you to hire more personnel for that shift.
Listen to Your Customers
The customer is considered king, and listening to what they have to say is key in the service industry. They can provide you with an objective view of how they see your restaurant which may shed light on many areas for improvement. Not every customer will provide you with great insights, but if you are able to discover some commonalities between the different responses, you may be able to solve the issues and refine your business.
What are some insights that you have gained from your customers that have helped you improve your restaurant? Let us know in the comment section.
If you are looking to enhance the customer experience in your restaurant and don't know where to get started, give us a shout!
Kyle Utterback is Senior Account Manager at Ingenico Group, North America