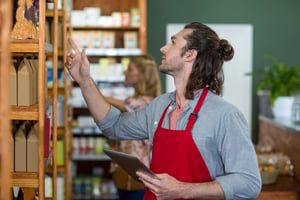 We live in an experience economy and every business is trying hard to emotionally engage with their customers to make their shopping journey a positive one. Today, the market is filled with similar products and services and this pushes customers to pay close attention to the overall experience. How they grade these experiences can determine if they will spend money with that business again.
There are many ways to enhance your customer's experience, but a key tool to help you with that is your payment acceptance solution. It is an important part of your day-to-day business – It is where your customers pay during checkout. It can also be used by your staff to serve your customers at their point of decision and connect to other useful information to help customers.
This is where an Android-powered payment solution can work for your business and help you enhance customer experience:
Familiarity
One of the biggest advantages of an Android-powered solution is the familiarity they bring (along with other touchscreen operating systems in the market) - not just with the merchants, but also with customers. The Android operating system has existed for over a decade and has been evolving ever since. Many customers and merchants alike have used the platform on their personal smart devices and it has helped make them more comfortable with touch as a user interface. This familiarity bodes well in a retail scenario as the ability for the merchant to easily use and train others to operate the system reduces the time needed to learn the ropes of the business. When it is the customer's turn to use the solution – whether to place their orders, pay, sign or add a tip, the familiarity with the interface and workings of the system can put them at ease and enhance their overall experience.
Innovative/Flexible Business Applications
The Android platform is not just known for the robustness of its operating system, but the myriad of business applications it provides. These visual apps create a vital tether from the staff to the customer that opens opportunities for engagement. For instance, an inventory application can enable staff to provide the customer with information regarding the availability of the product or a restaurant application that can help the staff easily take customers' orders ensuring accuracy and quick service. In addition, businesses can leverage the enormous developer community to use innovative business applications that not only help them make business operations efficient but also help enhance the customer experience.
Cloud functionality
The familiar and flexible Android operating system also provides cloud connectivity. This ensures speed and security for all the applications and allows businesses to easily make changes to their payment solution. This ability is especially important for businesses that have multiple locations over a larger geography. By storing data on the cloud, businesses can also help manage their storage costs and make the run smoother.
Future of Payment Solution
There are many payment solutions out there in the market and Android-powered solutions are just an example that may work for your business. Android, as an operating system, provides businesses with flexibility and enables them to further customize the experience with innovative apps. However, you should create a good balance of customer functionality and business efficiency with this type of solution to take the customer experience to a new level and keep them coming back again and again.
If you are looking to learn more about Android-powered payment solutions, drop us a line and we can help you get started.
Peter Charpentier is Senior Director of Product Marketing, Ingenico Group, North America