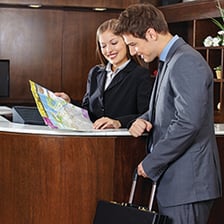 While the hotel front desk has traditionally been the first point of contact for check ins, an evolution of guest preference towards more choices has encouraged hoteliers to expand check-in capabilities. While the front desk still provides a personalized touchpoint for high-quality guest service, new ways to check in are providing service for guests who are looking for speed, convenience and self-service over a traditional experience.
Here's how hotels can provide more options for check in:
Check in with Personal Technology
Ideal guest: The tech-savvy traveler
Whether web-based or through a dedicated mobile app, allowing guests to check in with their own devices can be a game-changer for the hospitality business. About 76 percent of travelers named their mobile device as their number-one travel accessory, and hotels can tap into this with remote check-in options.
More tech-savvy guests can use these services to browse and book their room of choice, and check-in at the airport, in the car or wherever they feel most comfortable. This gives them both the convenience and the technological touchpoint they're looking for. Hotels such as Marriott are already taking advantage of this feature.
Check in with a Mobile PMS Solution
Ideal guest: The traveler in a rush
A study at Cornell found that after waiting just five minutes at the front desk to check in, U.S. hotel guest satisfaction levels drop by 50 percent. For guests who value speed and convenience, mobile Property Management System (PMS) can be just the solution they need. Staff can use mobile PMS solution to line-bust by checking in guests and setting up their room keys before they even reach the lobby.
This speeds up the process and ensures that guests feel their time is valued. Whether staff are meeting them to check-in outside the hotel or in the lobby, guests can be sure that they'll get to their room quickly and with much less friction. This interaction also creates opportunities for the hotel staff to upsell on additional services such as booking a dinner reservation, spa appointment or even reserving tee time at the golf course.
Check-in with a Kiosk
Ideal guest: The independent traveler
Kiosks allow guests to check in, review and make edits to their reservation, and even program their RFID room keys. They've become a preferred method of check-in for many, with recent study finding that 78 percent of consumers would like to see self-serve kiosks more widely available for this purpose.
Not only do kiosks help satisfy more independent guests during check in, they can also help hotels to upsell things like room upgrades and other services in a non-intrusive way.
The check-in experience sets the tone for a guest's stay. It's important for the hospitality business to provide the best experience, not only to win the trust of their guests, but also to build loyalty. This doesn't mean taking away classic features of a hotel, such as the front desk, but adding innovative and more unique options to choose from.
If you are looking to enhance your guests' check-in experience and would like to connect with an expert, drop us a line.
Mike Ryan is Senior Sales Executive, Ingenico Group, North America