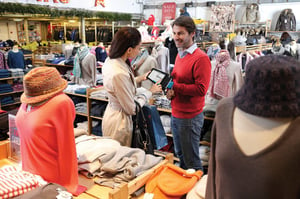 Over the last decade, mobile POS solutions have evolved from being a cost-effective, simple-to-implement solution for the SMB segment to a key component in enhancing the customer experience in enterprise retail environments. According to Juniper Research, the adoption of these solutions will drive annual mobile POS transactions from 28 billion in 2018 to over 87 billion by 2023.
As more businesses gain a competitive edge using mobile POS solutions, you may be wondering how you can reap the same benefits. So, how do you develop a mobile POS strategy that provides the maximum benefit for your business?
Step 1: Understand Your Goals
To make the most of your mobile strategy, the first step is to identify your ideal outcome. Consider answering these questions to hone in on those goals:
What do you want the customer experience to be?
Consider if mobile POS fits in with your idea of an improved customer experience. Does it match what your brand stands for? Does it fit into your business from an operational standpoint? Often the key components of a good customer experience include speed, convenience and novelty. If you want to upgrade the customer experience based on these tenets, mobile POS can help with line-busting for faster checkout and provide an experience that is unique to your store.
How do you want staff to engage with shoppers?
Mobile POS changes where and how customers and staff traditionally interact. If you would like your employees to engage more with customers on a one-to-one level, mobile POS is an excellent avenue. These solutions allow employees to be more proactive and offer customers the choice to checkout in-aisle. They can also use the technology to provide product and inventory info to the customer wherever they are in the store. The increase in engagement can also give your staff opportunities to upsell complementary items raising the average basket on that sale.
Step 2: Consider Implementation Logistics
Once you've outlined your goals, the next step is to look into the logistics of implementation. Some questions you should ask yourself include:
Is your Wi-Fi equipped to support mobility across the floor of your business? If not, is there room in the budget for it?
A mobile POS solution needs an internet connection to work, and a key step before purchasing technology is ensuring that your store is equipped to handle it. If your Wi-Fi range is too short, see if you can add Wi-Fi extenders. If your store doesn't have this ability, your strategy needs to leverage devices that are cellular and incorporate the costs of that coverage into your plan as well.
How will you secure mobile POS devices within your payment security infrastructure?
Payment security is of high importance, and your solutions need to be implemented in a way that continues to protect customer data. By purchasing hardware from a trusted provider and investing in MDM software to monitor and secure employees' mobile devices, you can ensure that customer payment data stays safe. In addition, physical security of these devices is also important to make sure they don't get stolen. By keeping them secure when they're not in use or charging, you can avoid any potential thefts.
Step 3: Evaluate Your Solution Options
When you've established that mobile POS can work for you, the next step is to evaluate your options for technology and payment technology partners:
What hardware and software solutions will work best for your store?
A key element of any successful strategy is selecting reliable software and hardware. You should invest in field-tested hardware to ensure that it is functional and useful. You should also look into software that fits best with your business' needs and comes with certified security. You should also make sure these solutions are compatible with popular mobile device platforms such as iOS, Android and Windows. This enables you to take advantage of innovative applications to manage inventory, employee timesheets, etc. and create an ideal solution that not only enhances the customer experience but helps you make your business efficient.
Who should be your trusted payments technology partner?
Behind every successful strategy is a good payments technology partner - so select wisely. A good partner will help to determine which solutions best suit your needs and be there every step of the way for from sales to support.
Step 4: Bringing it All Together to Create a Successful Mobile POS Strategy
The most important element of your strategy is good planning. Once you've answered these questions to determine if mobile POS is a good fit for your business, you can start your mobile POS strategy. While you implement your mobile strategy, you should consider starting small to see how it affects your business. For example, you can start with just the line-busting feature in a retail environment. If it works well, you can always add more features to further enhance the customer experience. Technology and customer needs are always evolving and your strategy also needs to adapt to these new realities. Make sure you keep a tab on these trends to continuously refine your strategy.
If this post inspired more questions, or if you are looking for a good payments technology partner that can help you with planning your strategy, get in touch with us. If you just want help narrowing down your search, download our checklist to see what makes a good payments technology partner.
Skip Hinshaw is Head of NAR Customer Engagement at Ingenico Group, North America