From the first step through the door of a healthcare facility, patients put their full trust in the doctors and staff around them to prioritize their health. Not only does this include treating their current ailments, but it also means preventing possible new ones.
Consider this:
When walking into a doctor's office, the patient closes the door using the doorknob. They sit down on a chair and open a magazine while they wait, resting their elbow on the chair arm. They set their child down to play with the office's toys and, on the way out, make a payment on the office's smart terminal.
What do all these activities have in common? In each situation, the patient interacts with surfaces that can contain microbes that spread disease.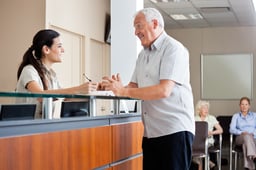 Patients go to clinics and hospitals to get treated for an illness, but the waiting room can be a major contributor to infections. According to MGMA, patients wait an average of 20 minutes in the waiting room before seeing a doctor -- ample time for microbes to claim a new host. According to the CDC, 1 in 31 hospital patients has at least one healthcare-associated infection (HAI) on any given day.
So how can healthcare facilities prevent this? One tactic hospitals and clinics can use to address this issue is by using antimicrobial-treated products.
What is Antimicrobial Technology and How Can it Help?
Antimicrobial technology uses an agent that inhibits the growth of bacteria on a treated surface and can be used to treat products during manufacturing or as a coating to prevent the spread of microbes on a product's surface. In other words, it can make a treated item's surfaces less inhabitable to bacteria.
Antimicrobial-protected solutions can:
Eliminate surface odors and stains caused by microbes, creating a cleaner, more pleasant doctor's visit
Prevent colonization of bacteria on a product's surface
Replace the need for staff to use overly abrasive cleaners that contain harmful chemicals. These cleaners can also degrade plastics and other surface materials over time and by not using them you can extend the operational life of products
Antimicrobial technology is already being used within the "care zones" in healthcare settings: mobile charts, surgical drapes, medical curtains, hospital beds and more. Anything that can be considered a high-contact item is a good candidate for antimicrobial technology in a hospital or a clinic. But one major benefit of investing in antimicrobial technology is the chance to improve patient perception.
Through good communication such as signage, mailings and conversations, healthcare providers can help patients understand that their facility has invested in antimicrobial technology and is providing the best care possible even outside the "care zones." If patients understand the benefits of antimicrobial-treated technology, it encourages them to trust their preferred healthcare facility more and know they can seek care with less fear of HAIs.
Learn more on how antimicrobial protection can make a difference in your hospital or clinic by downloading our whitepaper here.
Brandon Zauche is a Sales Executive at Ingenico Group, North America