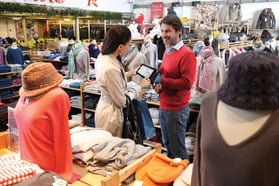 Anyone can buy what you sell, but how do you know they'll come back to buy from you again? And what is it that brings them back? These are important questions in understanding why your customers buy from you and not your competitors. An important factor that retailers should consider while organizing their sales strategy is how their products, services and everyday interactions make customers feel. Emotion is a major driver for purchases, and an even bigger driver when it comes to loyalty.
Why is an Emotional Connection Important in Retail?
Connecting with customers goes past the general look and feel of the brand and deep into the experiences they have when in-store and online. If retailers want to drive sales and repeat business, they need to have a direct line to their customers' feelings.
A recent study from HBR looked into a national fashion retailer and found that customers categorized as "fully emotionally connected" spent close to twice as much non-connected customers annually. These fashion customers were also more than twice as likely to spend more for the best products, and less than two times as likely to make decisions solely on price.
An emotional connection can also be what creates the biggest advocates. Connected consumers were also almost twice as likely to recommend your brand to their friends and family.
Here's what an emotionally connected experience might look like:
After searching around at a few sporting goods stores, a customer enters REI Co-op looking for hiking boots. An employee in the camping and hiking section recommends a few pairs based on his personal hiking experiences. At checkout, the employee mentions an upcoming REI Adventures trip that offers basic hiking training and the discounts for future hiking supplies that come with membership. Feeling welcomed by the employee and seeing the value in the trip, the customer signs up to become a member. After his hike and the REI Adventures trip, he comes back to the store to buy more advanced supplies, recommending that his friend interested in hiking do the same.
How Can You Achieve an Emotional Connection with Customers?
There are different ways to inspire loyalty and become the preferred brand by tapping into customer emotions. Achieving this comes down to fulfilling needs and improving the experience at all touchpoints - experiences in and out of store, decor and design, in-store tools and employee support can all create different kinds of feelings. Here's where to start:
Establish Your Brand.

Embrace certain criteria or characteristics that are valuable to the customer base you want to reach. Tailor your store to your desired base through in-store design, employee dress-code, their demeanor and branding. You wouldn't plaster inspirational quotes on the walls in a high-end boutique for young professionals, but you might find them in a store focused on inspiring young athletes. You must ensure that your brand appeals to the right crowd in-store. Also, make sure that the way you're reaching out -- whether in-person, via social media or through email -- is appropriate.
Emotional outcome: I feel completely at home in this store - this place was made for me!
Create New Experiences.

Offering novel experiences for customers that add ease to their shopping experience online, on mobile or in-store helps a business become memorable and favorable. Options like frictionless checkout help eliminate barriers during shopping. Retailers can also branch out into omni-channel experiences by encouraging customers to use their mobile apps in-store or take advantage of mobile showrooming for more in-store engagement.
Emotional outcome: That was the easiest checkout process I've ever had! I wish more stores were like that.
Offer Strong Loyalty Programs

. Loyalty programs that provide incentives and benefits to the customers such as coupons and other deals encourage them to shop more often. Customers like to feel like they're getting the best deal possible when shopping, and one really good deal can motivate them to come back again for another.
Emotional outcome: I got such a deal on this. My friends aren't going to believe it!
Add Value.

When asking customers to buy into things like membership and loyalty programs, they must be assured that they're getting good value out of it. Value can come in the form of higher-end products for discounted prices or access to certain goods or services. With added value, customers should feel as if they are getting the better end of the bargain when they opt into the store's membership or loyalty program.
Emotional outcome: Membership here really pays for itself. All of these perks make me feel like I get everything I need and more.
Build and Maintain Trust.

Trust is essential to building an emotional connection, and compromising that can be detrimental to the relationship. One major way to lose customer trust is with a data breach or poor handling of customer data. Forty-five percent of consumers said they spend less with brands they perceive to have insecure data practices, and over a quarter (26 percent) will not give a company their business if they don't trust it with their data. Customers are becoming more aware of privacy issues, and retailers need to keep in mind how they store and share customer data to avoid overstepping bounds and losing loyalty.
Emotional outcome: I'm never worried about my personal data being misused by the company. I feel consistently safe with this store.
Customers aren't interested in faceless corporations -- they want to shop somewhere they feel connected to. These are just some of the ways retailers can build strong emotional connections with their customers. By putting in more effort into connecting with their audience, they are likely to drive more sales. How are you planning to build an emotional connection with your customers? Let us know in the comments below.
Peter Charpentier is Senior Director of Product Marketing, Ingenico Group, North America