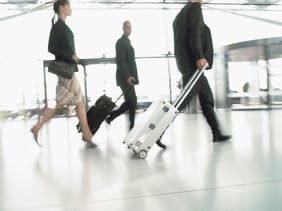 Quality customer experience used to be based entirely on how well employees handled face-to-face interactions. With more customers feeling comfortable with the technology at their fingertips, this has changed. There's been a rise in self-service options across industries and markets, driven by the convenience and speed customers have come to expect in a technologically-advanced world. With self-service options, like kiosks, businesses can improve efficiency, create new business opportunities and enhance the customer experience.
Many solutions can be customized to suit the use cases and business needs of different industries. Where many professionals have taken advantage of unattended options to advance the customer experience is in transportation, especially with ticketing, payment and self-service. These experiences look wholly different from how they used to, and with the evolution in technology, these industries are becoming more equipped to serve a large market. Here's how self-service options have improved customer experience across different transportation sectors:
Simplifying Self-Service with Open Loop Payments
Self-service for public transit initially meant loading up a transit-specific card at a kiosk before swiping in at a turnstile (sometimes swiping multiple times). With new and emerging systems like New York City's OMNY, this vision has changed quite a bit. OMNY allows riders to tap straight into the turnstile with their payment of choice – a credit card, debit card, mobile wallet or a wearable. In just three months, the pilot saw over a million taps. This success has brought them to extend the OMNY system to Penn Station.
What makes systems like OMNY so successful? The open loop payment architecture simplifies the entire payment experience. With open loop, riders can pay with whatever payment method they have on hand, providing the ultimate convenience. It also eliminates the need to add value to transit cards – or have a transit card at all. This advancement helps commuters to lighten their wallets and use their preferred payment method, creating a positive and seamless experience.
Skipping the Line at Airports
If there's anything that adds friction to the customer experience, it's waiting in a line for way too long. Americans spend 37 billion hours waiting in lines each year and a good customer experience will help to reduce that. For many years, this is what checking into a flight looked like: customers lined up, waiting to check into their flights, check their bags, print their boarding passes and get answers to whatever questions they had. With kiosks, this process has been streamlined significantly.
Kiosks at the airport condense all the steps a passenger could need at the beginning of their trip in one place. They can skip the line, head straight to a kiosk and check-in for a flight with minimal effort, scanning a QR or barcode on their mobile phone to pull up their information. The kiosk can then offer access to other services, such as checking a bag, printing a boarding pass and even allowing passengers to choose their own seat on the flight. The possibilities are endless - and most importantly, all done at the passenger's convenience.
Making Train Tickets Mobile
Kiosks have become the norm at commuter rails, and passengers have become comfortable with waiting in line to purchase their tickets from the terminal and hopping on a train with a paper ticket. Where many commuter rails have gotten more savvy is with mobile ticketing options. In a 2019 survey of North American transit agency professionals, 62 percent declared they have deployed or will deploy an account-based ticketing system, and 84 percent reported research or active interest in mobility as a service-based offerings. Here's why.
For the on-the-go traveler, sometimes waiting in line for a kiosk just isn't going to cut it. Mobile ticketing allows them to use what's right in their pocket -- a mobile phone -- to purchase tickets for a ride with no wait at all. Conductors can scan the ticket through a QR or barcode for a truly seamless ticketing experience. Mobile ticketing can be done through a rail-specific app, allowing for the push of real-time updates, the introduction of a loyalty program and opportunities to offer alternate services to passengers. With this innovation, customers won't ever have to worry about missing a train while waiting in line for a ticket and can benefit from the loyalty program offerings from app to app.
Improving the Wait at Electric Vehicle Charging Stations
As electric vehicles entered the U.S. market, there was initial concern about the number of charging stations available how far apart these stations were and how long the customer had to wait to charge their vehicle. Many drivers were left wary about finding an open charging station at the right time. An additional concern was about payment method acceptance, and the consistency of the customer payment experience from one charging station to the next.
With innovations like kiosk-specific mobile apps, the worry of a wait has become a problem of the past. Drivers can sign up to use certain stations through mobile apps, as well as join waitlists or reserve a timeslot to charge their cars, getting notifications in real-time for availability. The kiosks themselves can also offer services like wayfinding or relay emergency broadcasts. Some charging station owners may even choose to display information about local businesses or upcoming events that can be of interest to customers. Many stations now also accept contactless payments and mobile wallets for speedy transactions, giving drivers more options for how they'd like to pay. These advancements help to enhance the charging experience, from start to finish.
The Future is Self-Service
These successful self-service implementations all rely on new and innovative technology, with a heavy emphasis on allowing customers to use their mobile phones. Many customers are now accustomed to a touchscreen interface, they feel savvy with their smartphones and it's become abundantly clear that many of them feel equipped to handle their own transactions for travel. By offering these self-service options, the transportation industry has been keeping up with the demands of these more independent customers and optimizing their services with quicker payment and ticketing on a day-to-day basis.
If you're looking to make your customer experience more seamless and your operations more efficient with self-service solutions, drop us a line!
Bruce Rasmussen is Director of Sales, Strategic Verticals at Ingenico Group, North America