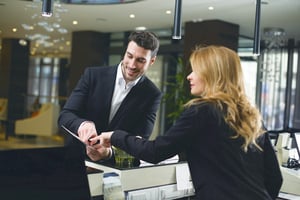 Hotels and resorts have long thrived on excellent customer service and attention - but new technology has raised the bar for guest expectations. With instantaneous information, services and purchases at everyone's fingertips, these businesses need to keep up with growing demand for a seamless and personalized guest experience. This is especially true as it can increase guest spend, boost loyalty and lead to positive reviews and recommendations.
So, how do you keep up with this demand? One of the ways hotels can tackle this is with mobile POS. For an example of a personalized guest visit using mobile POS, consider this:
Upon arriving at his hotel, a guest sees a long line to check in. Before he even makes it to the line, a hotel employee approaches him with a mobile POS device. Within minutes he's checked in, set up with his encoded room keys and on his way.
At the pool, a server takes his order, charges his card using a mobile POS, and retrieves his beverage in minutes.
An hour later, the guest heads back to his room to change for a round of golf but his room key is acting up. How convenient -- a bellman equipped with a mobile POS is nearby and can re-encode his key right in the hallway.
Around hole 11 on the golf course, the guest is starting to feel hungry. He left his wallet at the hotel, so he orders a snack when the beverage cart comes by on its mobile POS and charges it to his room.
After the 18th hole he heads to the beach-side restaurant for dinner where a member of the hotel staff approaches him, takes his order on a mobile POS and accepts his payment right on the beach.
Just one week later, the guest has already told all of his friends and coworkers how great his experience was and left a review on Yelp: 5 stars!
Let's review. What made this guest's stay worthy of a 5-star review?
Remote check-in. The check-in process is the first point of contact between the guest and a hotel, and guests expect the highest standards of speed, service and security. With mobile POS, hospitality businesses can offer their guests remote check-in services at the airport, in transit or anywhere on the hotel property away from the front desk. Payment solutions can also be used to read and program secure RFID room keys, which saves time and reduces costs by eliminating the need to buy and use additional space-consuming devices for encoding room keys.
Payment anywhere, anytime. Part of enhancing the guest experience means bringing services to them wherever they are. Services like poolside payment, Pay-at-the-Table in the restaurant or even mobile POS use on the golf course can ensure that guests are provided with seamless service. The easier it is to buy food and drinks, the more guests will spend. Replacing outdated pad-and-paper systems keeps guests from waiting and allows staff to work more efficiently as they stay focused on providing prompt service.
Efficient staff. Customer service extends beyond the main lobby. Mobile POS solutions help enable this strategy by providing staff the freedom to deliver outstanding service wherever the guests prefer. Using a mobile POS solution, employees can assist guests with non-functioning room keys or help with any changes to the check-in process in the hallway, in their hotel room or anywhere on the hotel property. This also helps improve efficiency among the hotel staff as more of them are now equipped to handle tasks which were previously designated only to the front desk.
Flexible payment options. The right solutions for hospitality are ones that accept all forms of payment, including magstripe, EMV chip cards and contactless, such as mobile wallets. A flexible payment system ensures guests can be served whenever, however they need, wherever they may be.
The hospitality industry is one built on the human touch, but new technologies are helping to re-imagine the future of guest service. A seamless, innovative experience includes deploying the right payment technologies to provide faster, more personalized service. Mobile POS can help hospitality businesses set themselves apart when it comes to enhancing the guest experience. Want to know more about leveraging mobile POS for your hospitality strategy? Drop us a line!
Chris Haggard is Account Manager at Ingenico Group, North America