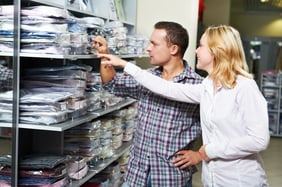 One cannot deny the convenience eCommerce provides us today, especially for retail shopping. We can sit on our couch, order whatever we need and it is delivered right to our doorstep. Over the years, eCommerce has seen immense growth. According to a recent TechCrunch article, Amazon's Prime Day sales in 2019 are expected to push U.S. eCommerce sales to $2 billion. Another article in Internet Retailer mentioned that eCommerce represented 14.3 percent of retail sales in 2018.
Even though online shopping seems to be gaining popularity among the consumers and many brick and mortar stores appear to be struggling, physical retail is still dominant when compared to its online counterpart. According to a recent RetailMeNot Inc. survey, 85 percent of U.S. shoppers visit brick and mortar stores during a typical week. Marissa Tarleton, CEO, RetailMeNot, also said that, "In-store retail is still the most important channel for consumers, and the role that mobile plays in the shopping journey is notable to retailers who want to reach in-store shoppers. The mobile device is the number one in-store shopping companion, which is a marketing opportunity for retailers to drive in-store footfall, incentivize sales and understand online-to-offline behavior."
She's right. With the evolution in how people shop today, retail businesses with brick and mortar stores need to change their strategies and find clever and effective ways to reach their customers – whether it is in-store, online or on mobile devices.
The Role of In-Store Associates
When it comes to the in-store environment, merchants should think about the role of the store associate. In today's retail business, store associates need to be more than just a face behind the cash register – they need to enable unique experiences that your customers are seeking. They need to be able to answer any questions that customers may have – kind of like a walking-talking version of the store.
The RetailMeNot survey pointed out that more than 53 percent of shoppers would prefer to use their mobile device to find deals and offers on products that interest them and discuss them with an in-store associate. This is an opportunity for the merchant to engage with the customer and understand what they are looking for, maybe provide them a better deal, etc.
These store associates, when equipped with the right technology, can also help customers find what they are looking for and help them checkout right in the shopping aisle.
Deal Hunting and Personalized Offers
Many consumers have lived through a time where they would spend countless hours cutting out coupons from the newspapers delivered to them. Times have changed, coupons are now also available via apps on smartphones and in some cases, personalized to the customer.
According to the RetailMeNot survey, 65 percent of shoppers regularly receive mobile coupons that they can use in-store. Sixty-nine percent of them say that by receiving these offers on their phone gives them an enticing urge to visit the physical stores more.
Retailers can reach the customers wherever they are by offering them discounts and coupons via digital channels that are personalized to their preferences. This will not only drive more people to your store but will also give you the opportunity to engage with them on a more personal level and provide an opportunity to upsell on other products and increase the overall spend.
Brick and Mortar Stores Aren't Going Anywhere
Even though eCommerce continues to gain popularity among consumers, brick and mortar retailers can use it to their advantage. Providing a unique experience for your customers goes a long way, and using online and mobile platforms to your advantage can also help you reach more customers.
How have you used online and mobile platforms to enhance your in-store customer experience? Tell us in the comments section. If you are looking to enhance the customer experience in your retail store and don't know where to get started, get in touch with us.
Kylie Everhart is an Account Manager at Ingenico Group, North America