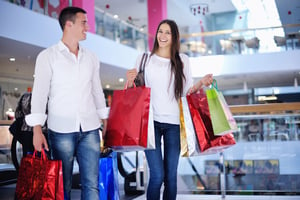 For the holiday season, it's important to give shoppers what they want -- and right now, it's about doing it their way. The holidays are a demanding time in which a variety of customers are shopping each day with varying expectations. According to the 2019 PwC Holiday Outlook, customers want "digitally-enabled convenience." This looks different from customer to customer, but can ultimately be described as technologically-based ways of making the shopping experience easier, which can refer to the shopping itself, checking out, delivery and more. Any good holiday retail strategy can accommodate the different needs of their customers with one plan: offering choice.
This process can begin with a thorough analysis of your customer's desires. Data-driven intelligence can help with this -- in what channel are your customers shopping the most? What are they shopping for? What is speeding up their checkout process? What's slowing it down? As soon as you know who your customers are, what's working for them and what isn't, you can begin to implement new ways that make their shopping experience more personalized and convenient. Here are some starting points:
1. Offer Alternative Delivery for Shoppers
Alternative delivery options give customers the power to pay for merchandise from the comfort of their home and choose how they'd like to receive it. Buy Online Pick-up in Store (BOPIS) and curbside pickup are prime examples of digitally enabled convenience. BOPIS gives customers the satisfaction of having a product almost immediately without having to shop around in-store first. Curbside pickup offers even more convenience by eliminating the need to go inside the store at all. These options can be particularly valuable during times like the holiday season when stores are crowded and busy, and there may be long lines to checkout. Twenty-three percent of respondents to the PwC survey use curbside pickup for online shopping, which is a six percent growth since 2016.
The Ideal Customer: A mother of three is ordering gifts for her extended family - but her babysitter is away for the holidays. She specifically chooses to order from a store with curbside pickup. An hour later, she straps her three kids into the car, pulls up to the store, uses her app to alert an associate that she's arrived and pops her trunk so they can load the gifts. Within moments she is on her way with ease -- no unbuckling necessary.
2. Cultivate an Online Presence for In-Store and At-Home Buyers
With 54 percent of shoppers planning to do more of their holiday shopping online this year than in-store, an online presence is good for revenue. But this doesn't spell the end for brick and mortar -- many shoppers are using their mobile phones in-store for an enhanced experience. Customers use their phones for mobile showrooming, comparing prices, and looking for coupons. For the thrifty holiday shopper, having an online presence can elevate their experience to the next level.
The Ideal Customer: A budget shopper plans to buy gifts for all of her friends this holiday season -- which means she needs to find some good deals and promotions. She uses her phone to find coupons and compare prices for each store. Some deals and coupons are 'in-store only' which helps her plan her visit to the mall better. She looks online to make sure all the stores have what she needs. At the mall, she uses her coupons for the merchandise and leaves feeling like she got the best deal.
3. Prioritize Speed for Customers on a Deadline
Speed is one of the most valued tenets for shoppers. This is especially true for telecommuters, who are accustomed to flexibility from their work-from-home lifestyle, are tech-savvy and also willing to pay a premium for convenience. According to the PwC report, 71 percent are Amazon Prime Members, a service that offers personalization, convenience and fast shipping. Retailers can optimize their services to provide this speed in many ways. They can make in-store checkout quicker with mobile POS solutions, kiosks, and self-service options. They can opt-in for one-click checkout online. They can even personalize services to offer products to customers before they even know they need it. Whatever the method, a quicker shopping experience may be what creates lifelong customers.
The Ideal Customer: A last-minute gift-giver is scrambling for a present for his best friend three days before they meet up. He finds a great gift -- with 5-7-day shipping. He instead searches up a store with quick checkout: a one-click purchase with two-day shipping for loyalty members. He immediately signs up, finds a similar gift and clicks "buy" with a sense of relief.
Giving the Customers What They Want
Convenience has become a cornerstone of the retail experience, and these are just some of the ways your store can accommodate customers to the fullest. Certain customers will be more interested in certain services than others but having a range of choices ensures that more often than not, customers are finding what they need.
With the holidays just around the corner, you may be looking into implementing some of these options. If you want more information on helping your customers shop their way beyond this holiday season, contact us!
Drew Goebel is the Key Account Manager at Ingenico Group, North America