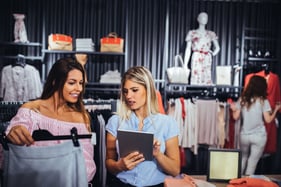 Technology is changing the retail game. Tech Screens have made a natural integration into the shopping experience, whether that be on in-store payment solutions or right on the customers' mobile device. Retail industry analyst firm IHL found that leading retailers are investing in in-store technology at a rate 70 percent higher than the average performers in their segments. Integrating these technologies helps with things like line busting, upselling and modernizing - but they can do even more.
A key aspect of the technology many retailers are investing in is the ability to personalize the customer experience. In the specialty and department store segment, IHL found that those who have implemented a personalized experience are expecting 2019 sales growth to be 73 percent higher than average.
So, how can retailers deliver this experience with technology? Here's where to start:
Mobilize Employees
Three-quarters of retailers plan to provide mobile solutions to their associates within three years - and for good reason. With mobile devices - whether that be smartphones or tablets - employees can deliver more personalized service to customers throughout the store. These mobile solutions can help store associates answer questions about inventory, search for product details or features, check pricing or even ring up the customer. From POS capabilities to inventory search, customers can get the information and service they need from anywhere in the store.
These devices can ultimately help to customize a consumer's experience. Solutions driven by data integration can show employees customer browsing history, sizes and preferred brands - and compare real-time with store inventory. Well-trained store employees are the ultimate sales influencer and this tailored information can help them to better service the customer and earn more store revenue.
Use Kiosks to Empower Customers
Retailers can take it a step further by putting technology into the hands of their customers. Do-it-yourself shoppers are becoming the norm, and by adding unattended options like kiosks, retailers are empowering customers to lead their own in-store experience. Interactive kiosks can be used to look up product information, access store directories and floor plans, explore gift registries, check product availability and more.
A 2004 experiment by McDonald's found that the average check size from a self-service kiosk was 30 percent higher and that 20 percent of consumers would add a drink to their order when it was offered by the kiosk. With more customers becoming comfortable using self-service options, retailers can leverage this technology to suggest other products based on current or past purchasing history, effectively modernizing and personalizing the checkout experience.
Expand Features on Mobile Apps
Another way to bring technology straight to the customer is with mobile apps. Sixty-three percent of customers use their phones to research products, compare prices between competitors, and place orders on the spot - and retailers can capitalize on this. Mobile apps can do more than offer online shopping - they can contain features like store locators, shopping list capabilities, personalized recommendations and loyalty programs. Sixty-nine percent of consumers say the choice of retailer is influenced by where they can earn customer loyalty/rewards program points.
Mobile apps can also enhance the in-store experience, with features like product locators and floor maps. Some retailer apps even offer barcode scanners that bring up product information or turn the customer's mobile phone into a scan-and-pay device for self-checkout.
It's important to note that across these touchpoints, the personal customer experience should be consistent - from the counter to the aisle, to mobile and unattended. A shopping experience may combine several of these factors, so retailers should ensure that customers get a streamlined, modern and custom-made experience across their trip.
If you're looking to reinvent your customers' retail experience with technology and personalization, drop us a line!
Kylie Everhart is an Account Manager at Ingenico Group, North America