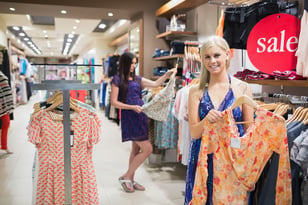 The key to running a successful retail business is by consistently engaging customers - but how do you accomplish that? With major advances in technology, many retailers are turning their attention to digitizing the checkout. While it can enhance the customer experience by making payment easier and integrating loyalty, simply digitizing the checkout isn't enough to stand out from competitors - and getting customers coming back for more.
The best way to enhance engagement with customers is to provide a rich, end-to-end experience. This means integrating technology at all touchpoints, creating emotional connections with customers, making good use of loyalty solutions and providing unique experiences throughout the store.
Bringing customer engagement to a new level takes a lot more than just going digital. Here are some ways retailers are making the full shopping experience a part of their engagement strategy:
Make Customers Feel Like They're Part of Something
A good way to keep customers coming back is to make them feel like they're a part of the brand by emotionally connecting with them. A study by HBR found that customers categorized as "fully emotionally connected" spent close to twice as much as non-connected customers annually. For example, retailers can provide incentives for participating in their established culture. This would include an environmentally-conscious coffee shop providing a small discount for customers who bring in a reusable cup, or a charitable ice-cream store giving an extra scoop to customers who choose a flavor in which proceeds would go to charity. Including customers in the company culture helps to build strong emotional connection and formulate a personal relationship, which leaves them with a sense that the store cares about helping to fulfill their needs.
Offer Tangible Loyalty Benefits
With loyalty points becoming a viable and invisible part of transactions through mobile apps and smart payment solutions, sometimes customers don't realize just how valuable they are. Retailers can offer more tangible loyalty benefits that allow customers to experience that immediate redemption feeling directly in the store. Simple implementations could be creating more opportunities for customers to see their reward "points" balance on receipts or seeing loyalty "points" added to an account for signing up for push notifications. One common example would be for a smoothie store to provide a free drink for a customer who purchases from them three days in a row. Or, a store can provide discounts to loyalty members during off-hours. Bringing loyalty to the forefront can help customers realize its value and keep them coming back because they feel they are investing in the brand.
Provide New Experiences Throughout the Store
Making technology an integral part of the store is what brings many retailers above the fold. Introducing different touchpoints within the store can create a unique experience for customers as they shop around. This can include kiosks that can help with item searches, or mobile POS solutions that employees can use for in-aisle inventory lookup, checkout and more. They can also use technology such as smart mirrors that suggest complementary items to what shoppers are trying on. Technology can truly change the retail game, and it doesn't just need to be for the online store.
Keep in (Thoughtful) Contact with Customers
Engaging with customers while they're out of the store is just as important as when they're in the store. Many retailers accomplish this through email blasts, mobile app push notifications and paper mail - but an important consideration is what these communications are asking of customers or presenting to them. These marketing initiatives can do more than just alert them to new sales or products - they can personalize the experience. The "Just For YOU" communication can offer something as simple as loyalty points or discounts for inviting friends to create an account or making certain purchases. In the case of mobile apps, they can also be sent out when customers are within the range of the store. Any time retailers can offer an incentive with personalized benefits for customers, it creates new opportunities for engagement.
Enhancing the customer experience can be more varied than just going digital. Many successful retailers are considering what they can do in-store at the peak of engagement, as well as changes they can make to engage with customers through online channels. This can range from offering loyalty benefits to involving customers in the company culture, to reinventing online communications to provide more beneficial messaging.
Want to learn more about enhancing your customer engagement strategy? Drop us a line!
Kylie Everhart is an Account Manager at Ingenico Group, North America