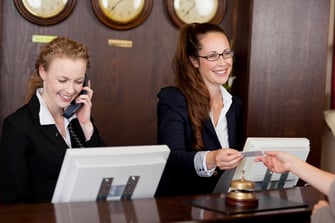 In early April, data had suggested that nearly 80% of all hotel rooms were going empty due to the COVID-19 pandemic. It became clear that all hospitality businesses had taken a huge hit as more people sheltered in place and suspended their travel plans. With the global health crisis still at hand, the hospitality industry is far from getting back on their feet.
Here are some articles that we found that discuss a range of topics from how travel will change to what the future holds for hotel design. Read more:
While it may take a long time for hospitality businesses to go back to the pre-pandemic levels of operability, there will be many changes in how they deal with the new rules. From effective social distancing and balancing the safety of guests over profits, this article explores many ways how the pandemic will change travel.
As the COVID-19 cases surge in many countries, architects are already thinking about the future of hotel design. From touchless systems to multifunctional spaces and outdoor conference rooms, this article looks at what the new normal could look like in hotels.
As hospitality becomes one of the worst-affected industries during this global health crisis, McKinsey & Company discusses what the recovery of hotels and travel could look like.
The healthcare industry has always borrowed ideas from hospitality to make their spaces more welcoming. However, with the global health crisis, the information has been flowing in the opposite direction to help hospitality businesses put the safety of their guests and employees first. Read more, as this article discusses what the future of hospitality may look like after the pandemic.
If you run a hospitality business or have customers in that industry and are looking for more resources around managing your business through this crisis, check out resources on HTNG's website.
If you need help evaluating your current guest experience strategy to make things work during this crisis, get in touch with us.