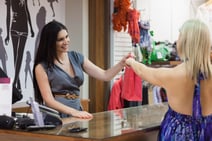 Consumers spend more on back-to-school purchases than on Mother's Day, Father's Day and Valentine's Day combined. With Generation Z – the cohort born between the mid-1990s through the mid-2000s – headed back to school, here's how retailers can get the most out of this major shopping season:
Enhance Online and Mobile Experiences
Gen Z is known for being tech savvy, which means they represent a large go-to-market for new and hi-tech shopping methods. One way to capitalize on these methods is to bolster online and mobile shopping experiences.
With 38% of Gen Zers reporting that it's difficult to find what they need online, enhancing these experiences may be the key to boosting sales. Retailers can optimize these platforms by using clear and consistent designs and descriptions, implementing an intuitive search bar and streamlining the checkout process. Find, click, buy.
This is especially important as it's expected 53% of back-to-school shoppers making online purchases will use their mobile phones for a myriad of tasks, including accessing the retailer's website, downloading coupons, comparing prices and making that final purchase.
Streamline In-Store Shopping Using the Latest Innovations
While online and mobile experiences are an essential piece of many retailers' back-to-school strategy, the value of a good in-store experience shouldn't be discounted: 80% of Gen Zers report that they look forward to shopping in stores when they have time.
Multi-channel services such as Buy Online, Pick Up in Store (BOPIS), Buy Online, Ship to Store (BOSS), store-side pick-up and ship to home make transitioning between online, mobile and in-store shopping seamless.
Gen Zers also use online services to supplement their shopping. Many use mobile devices to further research products they discover in-store - a practice called showrooming. Retailers can take advantage of mobile showrooming by offering competitive in-store vs. online pricing, as well as by optimizing mobile apps or store websites to support the following:
Quick and easy search that allows shoppers to find relevant information, such as in-store product locations and inventory information
Suggestions for similar or recommended products
Highlighted sales, promotions and coupons
Loyalty programs
Retailers should also consider how innovations such as mobile POS systems and kiosks could help streamline shopping processes and shorten in-store line wait times.
It All Comes Down to Choice
Gen Zers want flexibility and convenience that allows them to choose when, where and how they shop. The more touchpoints retailers can provide, the more shoppers will feel accommodated. Retailers can also provide a positive shopping experience by accepting a wide range of payment options, including mobile and contactless payments.
Incorporating these strategies into digital and in-store back-to-school strategies can ensure that retailers are providing Gen Z shoppers the full range of choices they need to feel satisfied with their experience.
Want to learn more about optimizing your retail strategy for back-to-school? Get in touch with us!
Kylie Everhart is an Account Manager at Ingenico Group, North America