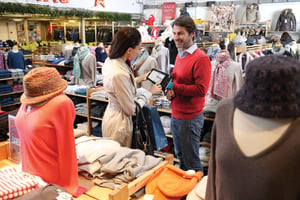 In the last few years, mobile POS has become a big part of many retailers' in-store strategy. In the latest PYMNTS mPOS Tracker, 67% of surveyed retailers said omnichannel offerings are a priority in 2019. Nearly half, 45%, consider mobile POS to be essential within that strategy.
While some retailers have been quick to adopt, others are still evaluating the benefits of this modern tech. If you're a retailer and are still unsure how mobile POS can add value for your business, consider these benefits:
Personalization and Opportunities to Boost Sales
Perhaps the biggest benefit of mobile POS is the ability to better utilize data to personalize the customer journey and boost sales. As a retailer, you're constantly collecting data from customers at every point of interaction, from web browsing to loyalty programs to completed purchases. Mobile POS is a great tool for leveraging the data in a way that increases sales through more personalized cross-channel experiences.
Mobile POS solutions give your sales representatives insights from on-hand inventory to customer size and brand preferences based on online behavior. They can also help inform ordering based on popular items, allow access to loyalty programs and provide opportunities for upselling.
A recent study found that retailers that are willing to make the investment in delivering consistent and personalized customer experiences can expect sales growth that is as much as three times their competitors. With this in mind, 51% of retailers consider personalizing the customer journey a top priority for 2019.
Seamless Customer Journey Through Mobility
Stores are designed in a way that is intended to serve customers as efficiently as possible. Mobile POS can aid in this goal by giving a sales representative more mobility. With this solution in hand, your sales rep can provide a higher quality of service throughout the customer's entire journey without ever leaving their side. As a result of this great experience, the customer is likely to return in the future.
Improved Customer Experience
A long checkout line can result in your customers leaving empty-handed and an overall negative experience. In fact, 451 Research completed a study where 56% of respondents remember abandoning their carts at least once in the last six months due to long checkout lines.
Mobile POS devices can help your customer skip the line to complete a transaction, leaving them with a positive overall experience.
How it All Comes Together
All of these benefits brought on by the use of a Mobile POS device ultimately lead to a happier customer who sees your business as having better service than your competitors. To see how this all comes together, imagine this scenario:
A customer enters a busy store looking to purchase an item. While browsing, a sales representative offers to find the item in her preferred color.
Using a mobile POS solution, the sales rep finds the item in stock and identifies its exact location. He then enters her loyalty information, which gives recommendations for other items the customer may be interested in based on recent purchases and online shopping history.
The customer identifies two other items based on the tablet recommendations and adds them to the order.
To help the customer skip the long line at the register, the sales rep offers to complete the transaction on the spot. He uses a coupon and loyalty card that the customer had on file in her mobile wallet app, and uses the mobile wallet for payment. The receipt is emailed directly to the customer along with a coupon for her next purchase.
At the end of the transaction, the sales rep gathers the purchased items and the customer is on her way.
The result is a streamlined, personalized experience, increased revenue for the retailer and a happy customer who is likely to come back. All in all, mobile POS solutions are versatile and can help retailers keep up with the growing trends and fulfill constantly evolving customer needs. Want to learn how a mobile strategy could help your business thrive? Drop us a line!
Kyle Utterback is a Senior Account Manager at Ingenico Group, North America