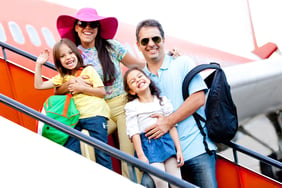 As we approach 2020, the past decade has shown a burst in travel demand, as well as the technology that has shaped how we travel. The U.S. travel industry has been on the rise since the last economic recession and is continuing to flourish. From 2009 to 2017, U.S. hotel gross bookings grew from $116 billion to $185 billion and airline revenue jumped from $155 billion to $222 billion, according to Deloitte's 2019 travel and hospitality industry outlook report.
Their 2018 report highlighted that over the past two decades international travel departures across the globe have doubled from 600 million to 1.3 billion. As people get ready for their trips in 2020, hospitality businesses need to step up their guest experience to rise above their competition.
Whether travelers are staying at high-end hotels in New York City, flying low-cost airlines across continents or eating at highly-rated restaurants in San Francisco, these businesses are driven by travelers' expectations of excellent service.
The Deloitte report also highlights how spending has shifted among travelers from products to experiences. Expenditure on durable goods such as appliances, cars, furniture has been on the decline. On the other hand, spending on experiential activities such as travel, restaurants is trending up. If travel and hospitality businesses focus on creating meaningful experiences for their guests, they could surpass the competition and grow their revenue. Payment technology and commerce solutions can be a key component in assisting these businesses to achieve their goal. Here's how:
1. Easy Check-Ins
For travelers, the check-in process is their first in-person interaction with the hotel. However, busy travel seasons could result in longer lines at the front desk. By giving guests more choice at check-in you can improve their overall experience at your hotel. Whether you encourage them to use your hotel's mobile app or check-in via mobile POS device, by giving these options you can remove friction from the traditional check-in process.
Imagine this: A family with three young children heads to a resort for vacation. After a hectic day of travel, the family is delighted to find the hotel offers off-site check-ins on their mobile app that can be taken care of the second they leave the airport – no waiting in line. They enter the hotel with restless children to find their room keys all set to go. Their vacation can begin stress-free as they head straight for the theme park.
2. Self-Service Kiosks & Vending Machines
Self-service kiosks can help travel and hospitality businesses provide a better experience for their guests. In hotels, guests can easily check-in on their own when they arrive without talking to a person at the front desk. This not only helps busy travelers go about their check-in process quickly, but it can also create efficiencies for the business by reallocating personnel resources elsewhere. Vending machines can provide guests with on-demand beverages, snacks and even smartphone chargers and other electronic accessories at any time they want. In the airline industry, travelers already can use the self-service kiosks for their check-in process that also allows them to print their boarding passes, upgrade their travel itinerary, etc. In the restaurant space, self-service kiosks are beginning to make a splash in the U.S. Other than helping restaurants improve staff efficiency, capitalize on upselling opportunities and even increasing the average ticket item, self-service kiosks provide guests with a unique experience while they visit a quick-service restaurant (QSR).
Think of a businesswoman traveling for work and is late for a flight. While she reached the airport, she was relieved to find a self-service kiosk that allowed her to quickly receive her boarding pass and go through security. At her hotel, she was greeted with the same experience, which offered a speedy check-in to her room. The woman's simple and positive experience helped her get to her meeting without wasting any time.
3. Bringing Payments to the Guest
Mobility in payments is trending up in many industries including hotels and airlines and other than bringing the check-in experience to guests in hotels, they can also accept payments for any additional services that are rendered. Whether guests are ordering food from the poolside in a resort or confirming a purchase on the golf course, hotels can securely accept payments with mobile POS solutions. In restaurants, Pay-at-the-Table is becoming the norm and being combined with mobile ordering where the server takes the customer's order on a mobile device. This not only provides a unique experience for the guests but also creates efficiencies for the restaurant. Many airlines today accept payments on board for food, beverages and even merchandise. With mobile POS airlines' can take their guests' experience to another level.
You have already used your mobile device for everything from booking your flight, to searching for hotels, to finding the best restaurants. Why not continue the use of these devices you're accustomed to for paying for your travels along the way? You're enjoying a sunny day at your resort and want the luxury of getting food without leaving your lounge chair. A resort staff member approaches you with a menu and later returns with a payment acceptance solution where you use your phone pay with a mobile wallet. True relaxation comes with the experience of effortless service.
Travel and hospitality businesses can implement any of these technologies to meet or exceed the expectations of today's travelers. It's also important to know that guests' expectations will constantly evolve and change and these businesses will need to continue to provide unique and meaningful experiences to keep them coming back. Get started with enhancing your guests' experience in your business and drop us a line.
Mike Ryan is Senior Sales Executive, Ingenico Group, North America