Every year our teams from around the globe attend NRF's Big Show to see the latest and greatest in retail technology. We listen to the chatter and look for trends that are applicable today and in the future. After meeting with our partners and customers, we left NRF with great insight and are excited to see how this evolves within all our initiatives in 2020 and beyond.
Here are some of the trends that stood out to us this year:
Getting on board with contactless.
Near the end of 2019, Visa reported that they issued 100 million Visa-branded contactless cards in the US in that year and they plan to surpass 300 million by the end of 2020. This, combined with the growing adoption of mobile wallets (Apple Pay, Google Pay, etc.), means everyone in the retail space has an eye on contactless payments. It was clear from the conversations we had this year that 2020 is going to be the true year of contactless, with more retailers enabling for contactless and more consumers adopting it in some form as well.
Evolving customer expectations.
With smartphones in the hands of almost every customer, it's become clear that they are feeling more comfortable than ever with technology and they want it to be a part of their retail experience. This means expectations around both mobility and self-service have evolved greatly. Customers are expecting to be met with self-service options in-store and at the checkout – which should be as easy to use and as flexible as their smartphones.
Using Data effectively.
A huge amount of the technology we saw at the show this year was focused on data collection and turning that data into Business Intelligence (BI). Retailers are learning more than ever about their customers and are looking to use this information to provide a personalized customer experience, turn shoppers into loyal customers and improve store operations.
Personalizing the customer experience.
The buzzword on everyone's radar for this year was personalization, which speaks volumes to the role of BI analytics and technology in retail for 2020. Customers want to feel that every retail experience is tailored to them – and merchants want to provide it. With advanced technologies like business apps on smart terminals and alternative payments that empower customers to make their own choices, retail is quickly becoming about providing a unique experience for each customer.
Recognizing the value of partnerships.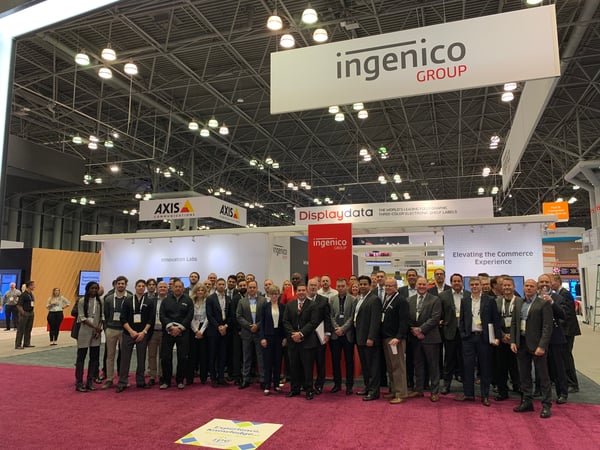 Retailers are recognizing more and more that strong partnerships with payment technology and service providers are becoming essential to success. There is a lot of complexity in the industry and most companies don't have the resources or in-house expertise to successfully deliver on the customer experience themselves. NRF showcased these partnerships, highlighting that retailers are recognizing the value in this model.
It was clear from everyone we taked to that whether it be through taking advantage of new tech, better understanding customers and their expectations, or finding new value in connecting with industry partners, the solutions are available today for retailers to capitalize on this evolving landscape.
Get in touch with us to go deeper on these trends and see how they could become part of your retail strategy in 2020 and beyond!
Bradford Giles is the Senior Vice President, Marketing and Sales Enablement at Ingenico Group, North America