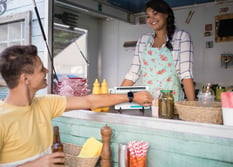 You probably didn't realize it, but the future of payments is already here. While you may not be able to ride a hoverboard Marty McFly-style to work each morning, you can use your smartwatch to pay for your coffee on the drive-in. Wearable technology – some of the most futuristic consumer technology innovations – is here, and is enabling nearly invisible payments.
CCS Insight's 2019 Wearables Forecast found that greater adoption of smartwatches, smart wearables and smart shoes will dramatically expand the market creating an annual value of almost $30 billion in 2023. Here are the factors currently contributing to the rise of wearables:
Growing Interest in Smart Technology
With recent reports showing that 16 percent of U.S. adults now own a smartwatch, the list of use cases for wearables is steadily growing. Consumers have come to appreciate the ease of wearing technology instead of carrying it, and the industry has taken notice.
One attractive feature of wearables is the ability to track health and fitness data long-term with little effort. Consumers can set fitness goals, share achievements with friends and connect the data to apps on their smartphones for sharing and further monitoring. Connectivity doesn't end there – many even use wearables as an interface for home automation devices. Consumers can use voice commands or manually change settings for in-home thermostats, home cameras, or smart TVs via a wearable device.
With consumers already wearing devices that can call friends, track their heart rate and change the channel on the TV, it's a natural progression for them to demand that these devices are able to make purchases as well.
The Proliferation of Contactless Payment
"Tap, pay, go" may quickly become the new mantra of the payments industry. With recent adoptions, such as New York City's new fare payment system OMNY, which saw 10,700 taps in the first weekend, consumers are signing on to a contactless lifestyle. Many banks are even pushing the contactless revolution— Bank of America is reissuing 4 million cards with NFC-enabled upgrades, and they're not waiting for re-issuance cycles.
Berg Insight's NFC Report estimates that 90 percent of European and 88 percent of North American terminals have NFC capabilities turned on, which means contactless methods are frequently available to those who prefer to use them to make a payment. With this framework in place and growing opportunities to use contactless, it is likely that consumers will show further interest in different ways to pay, including via wearables.
Expectations of a Constantly Improving Experience
Consumers are always seeking the next big innovation to elevate everyday experiences. Mobile payments is a leading example. Data from Transaction Network Services (TNS) showed that 59 percent of Americans liked to use mobile payment apps on their smartphones because transactions were quick and easy.
Wearables, an evolution of its mobile relative, offer that same appeal with even less hassle. With payment-enabled wearables like the Apple Watch, consumers can even eliminate the need to take out their phone for transactions. The customer experience becomes even more seamless with these devices.
If the wearables market is going at all in the direction of mobile payments (and that seems to be the case), the opportunity to lighten the load in your wallet is upon us. (Bonus: if mobile driver's licenses take off, you might be able to ditch the wallet entirely.)
New Wearable Innovations
Perhaps the biggest draw to wearables is the variety that vendors currently offer. Applications that may come easily to mind include smartwatches or fitness bands, but even more, innovations are emerging as consumers demand convenient – and fashionable – ways to wear and interact with technology. What's more, wearables like bracelets or rings offer discreet, modern looks to further broaden consumer appeal. For consumers looking for non-jewelry solutions, payment-enabled key fobs offer an always-on-hand option at the register. Barclays even invented the world's first contactless jacket.
As more vendors join the wearables movement and deliver increasingly dynamic wearable options, more widespread consumer adoption will take hold. After all – who doesn't want to impress their friends with a stylish ring that can track steps and pay for lunch?
If you are interested in learning more about accepting contactless payments in your business, get in touch with us.
Ryan Ahern is the Payments Solutions Manager at Ingenico Group, North America