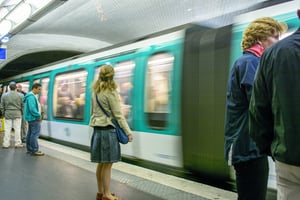 When people talk about contactless payments being the norm in transit they most often think of Transport for London, which has been incredibly successful with more than a million taps a day. What they don't typically think of: U.S. transit. But things are changing.
New York's MTA recently rolled out OMNY, its new contactless fare payment system. OMNY allows riders to simply "tap and go" with any contactless-enabled card, mobile wallet or smartwatch. In the first two days, MTA reported 10,700 taps -- 80% digital wallet apps, 20% contactless cards. And people are excited about it -- even celebrity Neil Patrick Harris praised it on Twitter.
The new iPhone update claimed that I can use my phone to pay for subway rides, and what, whaaat? - IT WORKS! #awesome #apple #phoningitin #thefuture #MTA #fourfivesix pic.twitter.com/WXZ7qXMYrQ

— Neil Patrick Harris (@ActuallyNPH) June 1, 2019
This excitement comes as no surprise for a handful of reasons.
Better rider experience. Riders don't want to think about making a payment – they want it to be frictionless. With contactless, they don't have to as it gives more choices in how they pay, whether by contactless card, mobile phone or wearables such as a smartwatch. There are also other experience-based perks like stored transaction history on mobile wallets and eliminating the possibility of a rider losing their ticket.
Saves time. No waiting at ticketing kiosks or turnstiles, no swiping or re-swiping -- just tap and go. One in 10 Americans use public transportation regularly, and for densely populated areas it's even higher (MTA reports an average of 1.7 billion riders a year). Even a tenth of a second makes all the difference in enabling faster throughput when a subway station is packed with commuters.
Data is secure. Contactless payments are backed by the same technology that makes chip cards secure, so riders (and transit agencies) can rest easier knowing payment data is kept safe.
It's familiar. Travelers are already comfortable with the idea of using their smart device to access transportation thanks to mainstream tech like mobile boarding passes at airports and ride-hailing apps like Uber and Lyft. Using their mobile wallets at subway turnstiles might come easy.
Improved reputation. A transit system that accepts contactless payments is likely to be seen as more innovative than one that doesn't. In a world where frictionless payments continue to become pervasive, a transit agency's reputation might be at stake and may impact it negatively, if they don't invest in the technology to make commuters' experience better with safe, secure and popular payment methods.
As tapping becomes second nature to riders, we can expect to see adoption spread to other transit agencies in the U.S. (and likely to other areas like retail and food and beverage). We'll be keeping an eye on the MTA OMNY roll-out and others as they emerge and will share more insights on our blog, so be sure to check back. And don't forget to get in touch if you want to further explore contactless payments in transit!
Bruce Rasmussen is Director of Sales, Strategic Verticals at Ingenico Group, North America