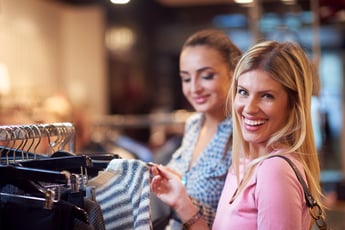 Technology is always evolving – new and innovative solutions are increasingly being sought out by businesses who are looking to elevate the commerce experience for their customers. But when faced with different types of available tech, as a merchant, how do you decide what solution to implement in your business? Will it help enhance the customer experience? Will it make the checkout faster? Will it help in improving other efficiencies in my business?
To answer these questions, you need to consider the following:
1. Friction
When it comes to in-store technology, what is the current cause of friction in your business? This goes beyond just the checkout experience of your customers – it includes their entire journey through the store. Factors such as having enough employees on the store floor for assistance to providing timely updates on inventory and products are all equally important. When thinking of the checkout experience, ask yourself if your business accepts all forms of electronic payments? The inability can make the checkout lines longer and may result in cart abandonment. Friction could also get worse if you do not have ways to mitigate long lines with tools such as mobile POS for line busting. Customers could also face friction due to the layout of the store and how efficient it is for customers to navigate and get to where they need to be. You can take efforts to collect feedback from your customers that help guide your strategy going forward.
2. Customer Experience
Are these technology solutions successful in improving customer experience? A hotel bellhop equipped with a mobile POS solution can help a guest with their faulty key without having to go to the front desk is just one example of how small conveniences can enhance the overall experience for the customers. Businesses need to get an understanding of how all these solutions can enhance customer experience.
3. Business Efficiencies
Payment solutions can help businesses in many ways and one of the key benefits is improving staff efficiencies. A Pay-at-the-Table solution for a restaurant environment, for example, can help save staff time during the checkout process. Cumulatively, they can help with improving with table turns and accommodate more customers. Similarly, in a quick-service restaurant (QSR), self-service kiosks can enable business owners to reallocate resources to other areas that may need help. This is where businesses need to ask themselves – in addition to improving customer experience, will the new technology solution help with improving efficiency?
4. Resonate
As a merchant, you know your customers the best and you would be the appropriately judge how the in-store technology solutions resonate with them. Would your customers prefer to use a self-service kiosk that takes the sales associates out of the equation when buying a non-consultative item or do they prefer that one to one interaction? Or is it worth providing both so your customers can have a choice? The answer to a lot of these questions can be "I don't know" and this is where a payment technology partner can help you make those assessments.
5. Preparing for the Future
Investing towards in-store technology is a big undertaking for any business and you don't want to spend money until you are confident that these solutions will last a few years before they might need to be upgraded again. By working with a payment technology partner, you can assess your requirements from hardware and software to security compliance and more. You should look for a solution that not only caters to the needs of your business today, but something that can help you evolve with changing consumer trends.
Start Small
Finding a robust payment solution that helps you achieve your business goals shouldn't be a one-step process – It should be an evolution. While there are many technology solutions out there in the market, starting with something small can be a good option. By piloting new technology solutions, you can test out the efficacy with both your customers and business. Maybe you implement mobile POS solution for a specific area of your store or just a few locations to evaluate customer response – and based on the results you can further refine your strategy. To help make this journey easier, don't be afraid to consult a payment technology partner.
If you are looking to learn more about what payment solutions can work for your business, get in touch with our experts.
Irfan Nasir is the Head of Solutions Development & Deployment at Ingenico Group, North America