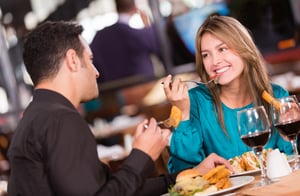 Over the last few years, enhancing the customer experience has gained a lot of traction among restaurant business owners. In fact, Deloitte's 2019 report on restaurants discusses how good quality food is basic table stakes, while the customer experience is what takes a restaurant to the next level.
Whether customers are dining in the restaurant or ordering for delivery or take out, providing a consistent experience is becoming the new yardstick to measure a restaurant's quality and success. Think about the last time you looked up a restaurant online for their reviews to determine if you and your friends want to visit. Reviews surrounding service or their experiences are often filled with strong emotions – both negative and positive. This shows customers are deeply affected by their experiences when they interact with a business.
It is important that to note that enhancing customer experience can include anything from the politeness and helpfulness of the staff to the ambiance of the restaurant to how flexible the payment process is no matter where the diner is.
Five Ways to Take Restaurant Experience for Customers to the Next Level
As you work on your strategy for 2020, pay close attention to how innovative technology solutions can take the customer experience to the next level in your restaurant business. Here are some tips to consider:
1. Pay-at-the Table and Food Ordering
Bringing payments to the diner's table has many benefits. For one, it eliminates the multiple trips servers have to make between the table and the POS system. Second, it adds security to the payment transaction as customers have total control of their card at all times. But technological innovation doesn't stop there, with modern tablet-based solutions, restaurants can also bring food-ordering to the table adding efficiency to their operations. Servers no longer have to write down or memorize customers' orders to place them with the kitchen – the application on their digital ordering system automatically sends them to the kitchen once they are placed. This saves servers a lot of time and also ensures order accuracy.
2. Online/Mobile Ordering
Sometimes, the weather is too bad outside for you to go out for a meal or sometimes you just need a quick takeout lunch on a busy workday. This is where online and mobile ordering come into the picture. Restaurants with online or mobile ordering capabilities not only improve efficiency in their own businesses but enhance the customer experience. Domino's mobile app, for example, shows the customers the status of their orders while they wait. Similarly, on other applications, customers can see the time their order will be ready in for pick up so they can plan their visit in case of shortage of time or unfavorable weather conditions.
3. Kiosk Options for Ordering and Pick-up
Food ordering and pick-up in quick-service restaurants (QSRs) is slowly evolving. Many restaurants have been implementing self-service ordering options to not just improve efficiency in their businesses but provide an improved experience to consumers. In a typical QSR setting, consumers come into a busy location and instead of waiting in line to place their orders, they use the nearest self-service kiosk. This kiosk can be customized to serve the needs of the business and consumers alike. Businesses can upsell meal combos and customers can accurately customize their orders and pay securely using any payment method they like.
4. Delivery
Getting food delivered is very common and there are a myriad of apps that help consumers with the best value and access to restaurants right from the comfort of their homes. But often there are situations when customers forget to add some sides or beverages to their orders. This is where the delivery drivers can provide them with these add-ons on the spot and accept payment using a mobile POS solution. This not only increases the average ticket price but delights the customer as their needs can be met seamlessly.
5. Accepting Mobile Wallets
Accepting mobile wallets in the restaurant not only increases the speed of checkout, but it also helps provide an opportunity for the business to build loyalty. By implementing value-added service (VAS) options to mobile wallet (such as Apple Pay and Google Pay) acceptance, businesses can enable easy enrollment and use of their own loyalty programs.
Customer Experience is Key
As you look to build your restaurant strategy for 2020, focus on how you can take customer experience to the next level. Whether the consumers are in fine dining restaurants or just buying take out from a QSR, a small positive experience can go a long way in building loyalty.
Drop us a line and we'll help you figure out which solution is best for your business.
Kyle Utterback is Senior Account Manager at Ingenico Group, North America