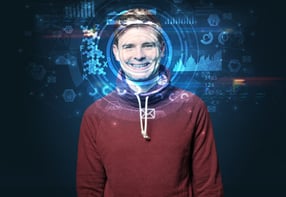 How are biometrics being used in payments? This is a question that's starting to come up as the technology gains traction in the industry - and for good reason. Biometrics may soon change the way people pay online and in-store.
What are Biometrics and How Are they Used in Payments?
Biometrics are measurable characteristics like fingerprints, handprints, irises and voices that are unique to each person. Biometric technology scans and verifies these characteristics to authenticate users to a certain service.
With the growth of NFC/contactless payments, which is expected to increase by 36.6% year over year through 2022, more customers are using biometrics to authenticate themselves when they make a payment. This can look like many things, for example, using facial or fingerprint recognition to authorize a mobile wallet transaction. While technologies like voice recognition and iris scan are also mature and developed for biometric authentication, they're more commonly used for other scenarios, such as accessing government facilities. You're more likely to see fingerprint or facial scans in retail environments in the coming years and voice recognition for eCommerce in a home environment.
As this technology becomes more popular, you may be wondering: are biometric payments something I should be exploring? Here are some reasons many merchants are looking into this technology.
1. It Makes Payment Even More Frictionless
Biometrics rely on "what you are" as opposed to "what you know." Customers only have to rely on their own physical characteristics to authenticate themselves when making a payment. This is something they've taken note of: in a recent report on the top benefits of using biometrics for payments by SmartMetric, Inc, 50 percent of respondents highlighted that it eliminated the need to remember passwords and PINs. This ultimately provides a frictionless experience for customers - a goal that merchants are always looking to meet. As an added bonus, this also boosts security significantly.
2. It's Already Widely Adopted by Consumers
Whether it's unlocking their phone with a fingerprint, or laptop with a face, most customers by now have used biometrics and are comfortable with them. Juniper Research estimates that by 2024 biometric facial recognition hardware will be deployed on more than 800 million mobile devices (that's 90 percent of smartphones). Some are already even using biometrics at checkout when they use mobile wallets, such as Apple Pay. With biometric authentication becoming the norm for consumer technology, it will quickly become a natural expectation for the retail environment.
3. Analysts Predict Future Growth for Biometrics in Payments
In a constantly evolving landscape, biometrics have emerged as a major part of the future payments industry. Juniper Research found that mobile biometrics will authenticate $2 trillion of in-store and remote payment transactions across the globe annually by 2023. It also found that biometrically verified mobile commerce transactions have the fastest predicted growth, representing 57 percent of all biometric transactions in 2023. Biometrics are coming to payments, and they're predicted to do it in a big way.
Biometrics are changing the way we pay. It's already widely available on smartphones, laptops and more, consumers like it and it's expected to see growth in payments in coming years. This is why many tech-savvy merchants are exploring what it means for business.
If you want to know more about biometrics for payments, talk to one of our specialists!
Arnaud Dubreuil is Director of New Generation Offering at Ingenico Labs, Ingenico Group