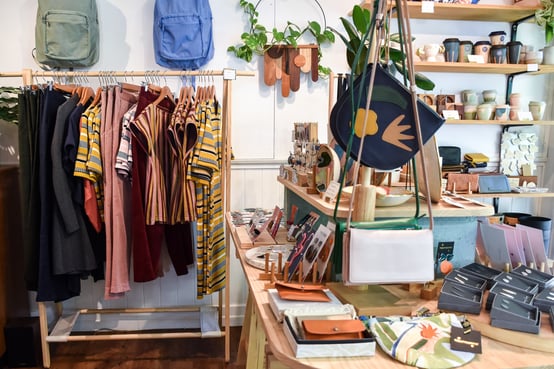 The technology that big-box retailers and e-commerce giants have at their disposal is phenomenal – often so much more than what SMB retail businesses have in their tech stacks. Enterprise retailers can collect data about each customer, analyze it, and then upsell or cross-sell and target customers with personalized promotions. Who hasn't had a "You May Also Like" offer pop up on a website or have a sales associate make a relevant offer to enhance a purchase?
Furthermore, enterprise retailers can seamlessly orchestrate omnichannel processes, such as buy online, pick up in store or curbside and self-service ordering and checkout.. Retailers with the best IT environments can also provide consistent gift and loyalty experiences on all channels and use voice of the customer (VOC) solutions to collect feedback to refine their processes even more.

Can SMB Retail Compete?
Technology has given enterprise and big box retail the ability to engineer excellent customer experiences and shopping journeys. It can do the same for small and medium-sized businesses.
However, when an SMB retailer considers the best way to build out a tech stack aimed at personalizing customer experiences and increasing efficiency, it may seem like a challenge too big to overcome.
Choosing software, integrating it with their point of sale (POS) and maintaining those applications are often not within an SMB retailer's area of expertise.
But it's well within a payment technology company's.
A payment technology company's partnerships can provide SMB retailers with a wide range of solutions and features, which are tested and certified to work with its platform. See how an SMB can build out capabilities – and its competitiveness – by adding:
E-Commerce and Online Shopping Carts. E-commerce growth that skyrocketed by 45 percent in 2020 continues. eMarketer predicts U.S. e-commerce sales will reach $327.26 billion in 2022 and grow to $468.29 billion by 2024. To accelerate the launch of an online business, SMBs can use an e-commerce platform and online shopping cart that integrates with their payments platform. In addition to laying the foundation for online consumer engagement and meeting the demand for picking up online purchases in-store or curbside, this strategy also ensures the retailer can accept their customers' preferred payment methods online.
Loyalty Rewards Program. Offering a loyalty program is vital to capturing business, particularly from millennials, 66 percent of whom would switch brands to get better rewards.
SMBs may resign themselves to using the loyalty features of their POS system or a legacy application. However, a modern, omnichannel loyalty solution is vital to competitiveness. PwC research has found that nearly half of consumers want personalized discounts and rewards, and 43 percent prefer programs with flexible rewards.
A loyalty rewards solution that SMBs can customize and that feeds data to the POS system can help them meet those demands.


Gift. Gift cards remain a go-to gift-giving option, and, according to the Gift Card and Voucher Association, digital gift card sales have increased by 50 percent since 2019.
With the right gift card solution, an SMB retailer can sell and accept physical gift cards and e-Gift cards across channels. They can also build gift cards into marketing campaigns and offer them as loyalty rewards, encouraging future shopping trips. Moreover, when the solution is integrated with the retailer's payment platform, gift card redemption is accurate, secure, and easy.


CRM and Marketing. Emails to an entire customer list can do more harm than good. In a customer-first era, consumers expect personalized offers, and retailers who send generic emails just become noise in an inbox. A solution that allows an SMB retailer to segment its marketing list and send relevant promotions via email or SMS will build a reputation for knowing customers and making offers that resonate.



Customer Feedback.

Delivering the types of merchandise, service, and experiences that customers want begins by knowing what they prefer. Simple surveys at the checkout in-store or online give SMB retailers feedback they can use to pinpoint issues, correct them, and optimize customer experiences.
Why SMB Retail Can Dominate
While SMB retailers may feel that there's no competing with big box and e-commerce retailers on price, that isn't the deciding factor in many purchases. PwC research has found that consumers will pay as much as a 16 percent premium for good customer experiences.
SMBs have more agility than enterprises with more complicated organizational structures and approval processes. They can also focus on higher-quality service with a personal touch, offerings tailored to the regions they serve, and unique shopping experiences.
With the support of technology, SMBs can find their niche and dominate it.
Get in touch with us to learn how Ingenico serves the retail market.
Anthony Acosta is a Retail Sales Executive at Ingenico.