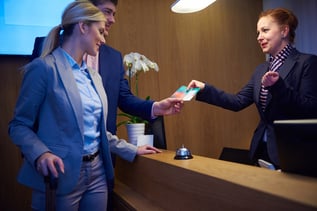 Contactless payments have gained popularity in the U.S. over the last few years. Mobile wallets such as Apple Pay, Samsung Pay and Google Pay were introduced as the EMV migration was in full swing, and allowed merchants to offer their customers another secure payment method. While the adoption of this payment method in retail and restaurants has been consistently increasing, hotel and lodging businesses haven't seen much traction. Part of the reason is that most of these businesses weren't proactive in adopting it. Why, you ask? For a couple of reasons:
They didn't have the bandwidth – As mentioned, contactless as a payment method gained popularity in concept with mobile wallets in 2015 – around the same time as the EMV migration. The main priority for hotel and lodging businesses (like other industries) was to be EMV compliant. As a result, contactless took a backseat. Additionally, in other industries such as retail, contactless provided customers with the convenience of a fast and secure checkout. In hospitality, on the other hand, most guest-staff interactions did not benefit from the speed of payment or authorization.
It didn't work in certain scenarios - While some hospitality chains did try to adopt the payment method, they ran into roadblocks especially with mobile wallet based transactions. Incremental transactions during a guest's stay didn't work or the whole transaction would fail at checkout as the final charge was different than the initial one. While this issue was resolved a few years ago, hotels still steered clear of this payment method to avoid any disruptions in the guest experience.
Improve Guest Experience with Contactless
In the past few months, the COVID-19 pandemic has turned the world of hospitality upside down. With shelter-in-place orders enforced in most states in the U.S., many hospitality businesses have been closed for months. As states slowly reopen, hotel & lodging businesses need to re-think how they can incorporate contact-free payment methods in their operations. Let's look at how the hospitality industry can effectively use contactless to improve the guest experience in their business:
1. Check-in
Whether you are checking-in your guest at the front desk or or elsewhere on the property with a mobile POS solution, your staff can always accept contactless cards/mobile wallets as a method of verification and authorization. If the customer does pay with their mobile wallet, it will provide your business with an opportunity to incorporate your loyalty programs (with value-added-services) and further enhance the guest experience.
2. Restaurants
If the guests prefer to pay their restaurant bills separately - they can do so with contactless. In this use case, the payment acceptance device will be brought to the guest at their table and they will get a choice to pay however they want to. By giving them the option of contactless you add speed and convenience to their overall experience.
3. Self-Service
While vending machines have been a part of the hospitality environment for years, they haven't always accepted contactless payments. By enabling this payment method, guests can easily grab their to-go snack at any time without having to carry cash. They can use their contactless cards or mobile wallets for their purchase.
4. Retail/gift shop
Enabling contactless in the retail gift shops at hotels will also add additional convenience for the guests with their purchases.
Grow Your Business
While the immediate benefits of contactless allow for fast, secure and seamless payment experiences during a global health crisis. The broader benefits of this payment method, including loyalty, will allow hotel and lodging businesses to grow their business and enhance the guest experience.
If you would like to learn how you can effectively use contactless in your hospitality business, get in touch with us!
Mike Ryan is Senior Sales Executive at Ingenico Group, North America
Attend our upcoming webinar on contactless payments and learn how your business can benefit from this payment method. Click below to register.