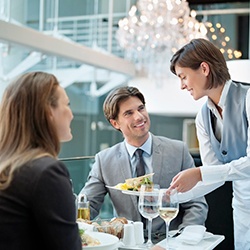 When it comes to fine dining restaurants, creating unique and meaningful experiences for the customers is the key to growing your business. According to a Deloitte report, 60 percent of guests said a positive experience will cause them to dine at a restaurant more frequently. Every restaurant tries to make sure they provide their guests with the basics - high-quality food and fast service in a comfortable setting. But with tough competition in the market, you need to go beyond these basic elements and take your guest experience to the next level.
Delight Your Customers with Innovative Technology
Based on the Deloitte research, 52 percent of diners want more control when it comes to the restaurant experience. This targets the food ordering process as many customers prefer to modify their order from the menu and would favor establishments that allow them this flexibility. In the report, 46 percent of the diners want an engaging experience. This is about the restaurant staff being enthusiastic and personable to make the customers feel comfortable. 45 percent of the diners want to be heard by the restaurant. This specifically talks about how customers value restaurants which take feedback very seriously and refine their service. The report also mentions 43 percent of the diners want to be delighted with a fun overall experience and 37 percent look for recognition of being a regular customer. These are critical points that your restaurant should look at when evaluating your overall service. Figuring out how to implement strategies and tactics that address these guest needs can be tough, but this is where innovative technology can help:
Food Ordering –A Harvard Business School study found that when an emotional connection exists between restaurants and their customers, customer value increases as much as 27 percent. By innovating the food ordering process, your business can create opportunities for your staff to more effectively engage with your guests. Servers, equipped with tablet POS solutions, can better communicate ingredients in dishes, accurately record orders right on the device and improve staff efficiency as the orders are digitally sent to the kitchen instantly. These devices can also help with real-time ordering where a server might be taking orders from a party of eight and by the time they reach the last drink order, the first few are already being made. Other innovations in food ordering involve fixed tablets on the diner's tables that allow them to seamlessly order drinks and appetizers without even interacting with a server giving them more control over their experience. This can help give customers more control of their order and improve their overall restaurant experience.
Secure Payment Acceptance: After the advent of EMV in the U.S., consumers and restaurants have increasingly become aware of the risks of letting a credit card go out of a guest's sight for transaction processing. Restaurants are looking to provide their customers with a safer and secure way to pay: this is where Pay-at-the-Table solutions come into the picture. By replacing the multi-step process of credit card acceptance, these solutions bring payment process right to the diners at their tables. This way, their cards never leave their sight and they can also pay with newer technologies like mobile wallets, such as Apple Pay or Google Pay. This improves the restaurant's efficiency by reducing the time it takes to turn tables and gives customers peace of mind that their card data is safe and provides them with a more engaging experience.
Loyalty: As the Deloitte report mentioned, restaurant customers also value recognition. Knowing them by name and what they've previously ordered can go a long way. It helps build trust and makes them feel you understand their needs. Innovative applications can enable restaurants to build this trust and gain loyalty of customers. Whether the app informs the restaurant staff of the how they like their cocktail or what was their feedback was on a particular dish last time, this information can help restaurants learn and refine how they interact with regular customers.
Pay-at-the-Table solutions and loyalty applications are just a few of many innovative technologies that can help restaurants focus on enhancing their customers' overall experience. In a time, where innovative technology dominates creating unique experiences for consumers, no matter where they are, restaurant owners need to rethink their growth strategy and consider how they can better engage with their guests and build loyalty. If you are looking to boost your restaurant business and don't know where to start, get in touch with us!
Anthony Walsh is Vice President of Sales at Ingenico Group, North America