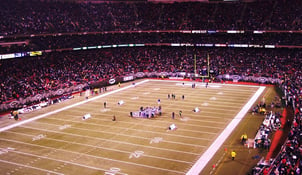 Think of the last time you went to see your favorite sports team at a stadium -- how much preparation did you need before you went? Did you need to buy a ticket online, print it and remember to bring it? Did you have to keep track of a parking stub to get your car out of the lot? Did you tailgate beforehand to avoid spending the whole game in line at the concession stand rather than in your seat?
Stadiums and arenas are hard at work to change these inconveniences using innovative technology. While a sports team or band may be the initial draw to the venue, many stadiums strive to provide an experience separate from just the event. They are looking to improve the overall fan experience, increase ticket sales and boost food and beverage sales by integrating payment technologies that make commerce an experience -- not just a purchase.
This experience enhancement serves to create a stronger emotional connection with guests, ultimately driving more sales and brand loyalty. In fact, a recent study from HBR looked into a national fashion retailer and found that customers categorized as "fully emotionally connected" spent close to twice as much as non-connected customers annually.
With more payment technology solutions aimed at improving the customer experience, many businesses can learn a great deal about that from stadiums and arenas. Here are some of the ways they have been innovating:
1. Invisible Parking Payments
The guest journey begins right from the parking lot at an event - it should start off on the right foot. Many stadiums have deployed self-service solutions that allow for parking spot activation and payment assistance, empowering guests to take control of their journey. Most solutions allow for payment with a chip card, a contactless card, a mobile wallet and more. This offers the convenience of pulling in without waiting in line at a booth and helps make parking more efficient for the venue. Some stadiums even offer designated parking spots for electric vehicles which allows customers to charge their cars while parked.
2. Independent Ticketing
While many guests arrive to an event with tickets, others are expecting to pick them up on-site. The traditional box office can be revamped or enhanced with self-service kiosks. With this technology, customers find their tickets and can even add certain services to their journey right at the venue with little friction. This is an additional way to bring convenience to customers and provides an opportunity to upsell with seat upgrades and more.
3. Seamless In-Seat Ordering
Whether watching a sporting event or attending a concert, the last thing any guest wants to do is miss out on special moments by waiting in line to order food or drinks. A rising trend in arenas and stadiums is in-seat ordering, in which guests order on the official stadium app and either get their food delivered straight to their seats or pick them up from a designated station. Not only does this provide a better experience and another touchpoint to the journey, but it adds incentive for guests to download the venue's mobile app. After all, what better way to delight a customer than bringing them service while they're entertained?
Unique Guest Experience is the Key
These are just a few of the tactics stadiums and arenas have deployed to make the guest visit more seamless. Here's how they might look when put together:
A man loads up his family in the car to go to the Atlanta Falcons game at the Mercedez Benz Stadium. Upon arriving at the parking lot, since he had already booked a reserved spot on the stadium's official app, he pulls into the express lane (appropriate for fans with pre-booked spots or using contactless payments). He pulls up the stadium app on his phone, scans the QR code for his parking spot at the self-service kiosk and parks his car.
They head to another self-serve kiosk to pick-up their tickets for the game. Though they initially came to sit in the nosebleeds, the kiosk offers a tempting deal: better seats and a team hat for only 20 percent more. The man accepts the upgrade without hesitation.
It's the 4th quarter and the game is heating up. The kids want cotton candy so the man waves over a vendor with a mobile POS and pays from his seat. For good measure, he orders himself a drink on the official stadium app, ensuring his eyes don't leave the field for long. His beer is delivered to his seat just in time for him to watch a touchdown - the Falcons win!
Basking in the victory, the family decides to wait in line to buy Falcons jerseys, made simpler by being able to reserve the sizes and right jerseys through the mobile app. As a result of the great experience, he resolves to buy a ticket package for next season as soon as he gets the chance.
From start to finish, the family has a seamless trip right from the parking lot. With self-service options, there is less waiting and more chances for upsell. The family gets all the services they want without missing the game and they stay longer to sustain the joy of winning.
Stadiums and arenas are an area that can bring together a number of commerce experiences, from parking to purchasing and picking up tickets to dining. This challenging space demands speed, convenience, innovation and efficiency -- and many stadiums and arenas have brought these elements together through new payment technology. Smartphone apps, kiosks and mobile POS are just some of the ways businesses can improve the guest experience -- and implementing them in innovative ways such as parking, ticketing and in-seat ordering helps to build a long-lasting emotional connection. The customer keeps coming back not only to support their team, but to enjoy the event journey. If you're looking to take inspiration from tech-enabled stadiums and arenas and implement these payment technology solutions into your strategy for 2020, drop us a line!
Peter Charpentier is Senior Director of Product Marketing, Ingenico Group, North America