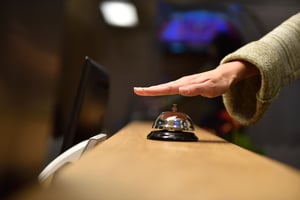 There's a magical moment in every really good hospitality experience where a customer thinks "these guys really get me". The winning formula for anyone involved in the customer experience is that instant connection that not only seals the deal or purchase but leads to unquestionable loyalty.
The personal experience
Everyone appreciates the personal touch. Whether it's a local barista remembering your regular order, a restaurant that knows you by name and your favorite table, or a hotel concierge that opens the door on arrival.
Replicating these small, highly personal moments, takes more than a responsive website, a cool app or an e-loyalty program. It takes a deep understanding of the individuals experience and their likes and dislikes.
In the face-to-face world this involves a two-way dialogue, personal interaction and engaging conversations. In the digital world, this is harder to achieve.
Combatting disconnect
The so called 'uberization' of the hospitality business (via remote, automated systems, mobile and web services) is perhaps in danger of reducing some customer interaction to 'dumb' transactions that take hotels, F&B, entertainment and travel operators even further away from delivering the unique experiences they need to compete effectively.
But all is not lost. By integrating a data-driven smart commerce platform to include secure switching, real-time data, tokenization, and marketing opportunities solutions, hospitality companies of all sizes can recapture those highly personal and magical moments.
How to deliver the personalized service
A data-commerce platform can generate and store transactional 'tokens'. These can be used to identify and follow the customer on their sales journeys, tracking their spending and allowing insights to be collected and reused by functions including CRM and logistics. Basically, acting as an identity broker to track consumers across different technology assets.
This gives businesses a 3600 view of the customer across channels, locations and brands. It allows them to share that visibility, in order to connect-the-dots internally, so they can achieve the ultimate goal – turning transactions into relationships.
The customer journey
So, how does all of this translate into a better valued experience for the customer? In the simplest of terms, with a data-commerce deployment model, customers could expect to hear "yes" much more often: "Like to pay by mobile? No problem!", "Prefer to be charged in a local currency? "Of course!", "Want to use your loyalty points to upgrade and pay in our restaurant? Sure!".
As well as offering greater payment choice across all channels, a data-connected platform can transform value and loyalty programs by allowing rewards to be effortlessly collected and redeemed across any sales or service point (and those of partners) with ease. Even without a card or membership number.
And that's only the beginning…
Want to capture the magic for yourself?
Download a copy of FreedomPay's latest report "Hospitality 2020+The Reasons Why We Talk About Data-Driven Commerce" and discover more.
Bernard Clary is the Associate Director, Compliance at FreedomPay