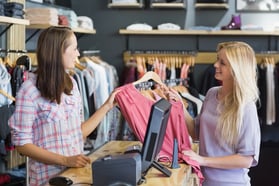 One of the most important pieces of technology in your business is your payment acceptance solution. It enables you to securely accept electronic payments from your customers and can help improve their customer experience. But let's face it. You've had a system in place for years which is now slow and doesn't accept all forms of electronic payments (EMV, contactless, etc.). In addition, you've realized how consumers these days are used to so many unique shopping experiences. You wish to have the growth and innovation in your business. You want a solution that is not only technologically advanced but takes your customers' experience to the next level.
So, what should you look for in a payment solution? Here are a few things you should consider:
1. Designed for Mobility
As consumer preferences change, businesses need to think about how they can effectively reach shoppers, wherever they are. Whether that is in-store or at a pop-up location outdoors, consider a payment solution that is designed for mobility and can help your business not only enhance customer experience but improve efficiency. It should provide you multiple connectivity options (Bluetooth and Wi-Fi) that work for your business and the infrastructure you have already set up.
2. Accept Multiple Payment Options
Consumers today like to have the options to pay any way they want including – cash, credit card, debit card, mobile wallets, Venmo, etc. As a business, by being prepared to accept these multiple payment methods, you can focus on providing great service to your customers.
3. Advanced Payment Security
For any business accepting payments, protecting their customers' data is of prime importance. This is where a strong payment security strategy comes into the picture. By following a balanced approach to payment security, you not only include technology solutions to help with that but also include process and people as part of that strategy. As security evolves, cybercriminals are also developing ways to breach it. Make sure your payment solution is compliant with the latest PCI-certifications to securely handle all types of transactions. To protect your payment infrastructure further, make sure your payment solution is compatible with industry-leading point-to-point encryption (P2PE) and tokenization solutions.
4. Compatibility with Cloud Services
Most solutions can provide secure payment acceptance that also lets consumers pay with any method they want. But if that payment solution is compatible with cloud services, it enables your business to take the customer experience to another level. In addition to faster transactions and data security, cloud services can give you access to a repository of additional information on the customer including their loyalty details, personal information, etc. that can assist while they shop. Whether you are a retail customer trying to get something delivered to your home from the aisle or a hotel guest looking to upgrade your room type, businesses can benefits from the cloud to quickly call upon the information needed to help their customers.
5. Effective Estate Management
As you look to expand your business to a bigger space or even multiple locations, you need an effective way to manage your fleet of POS systems. Look for a payment solution that is compatible with a robust estate management solution that allows you to manage all your payment devices and easily tackle firmware updates and other software-related changes.
Choose What Works for Your Business
There are many types of payment solutions that are out in the market that check most of the boxes for all these considerations. But you should choose what works best for your business. Maybe, it is an Android-powered payment solution that provides the familiarity and flexibility that you want for your business. Or maybe you leverage proprietary solutions that offer industry-known security with proven features and multiple use cases that you may implement in your business quickly and efficiently. If you need help in getting started, drop us a line.
Peter Charpentier is Senior Director of Product Marketing, Ingenico Group, North America