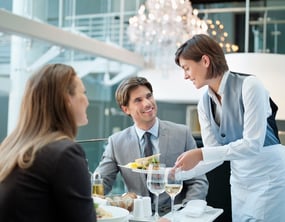 You could call the restaurant industry the canary that indicates the health of the economy. When things are good, people love to eat out — and that's certainly one reason why, right now, the restaurant business is growing. A recent report from retail industry analyst IHL projects $744 billion for total 2019 sales — an increase of 4.2 percent. Moreover, new location openings are up, with 2,346 new QSR stores and 565 table service restaurants on tap for 2019.
To sustain that growth and boost foot traffic, the National Restaurant Association 2019 State of the Industry report says that operators across all restaurant segments are looking to customer-facing technology and personalization to help differentiate their business and increase efficiency. Winners will be those that lead the market with digital innovations.
Here are six ways to leverage trending digital and mobile technologies to enhance the customer experience, increase efficiency and boost sales:
Offer Mobile Apps That Do More
Providing locations, hours of operation and even menus for users of your restaurant's mobile app is the expectation these days. Enabling customers to "call ahead" or make reservations for table service restaurants is close to the same. Real efficiencies for you — and convenience for your customers — come with apps that let them place orders for pickup or delivery and pay for them directly from the app, using a credit card, mobile wallets or gift card. Then delight them with real-time delivery tracking.
Doing all this digitally eliminates errors that can occur with phone orders and speeds internal order fulfillment. It also makes your restaurant more attractive to the lucrative millennial market that has a strong preference for ordering and paying via mobile.
Layer Loyalty and Personalization
You'll be leaving opportunity on the table if you don't layer loyalty programs and personalization into your mobile app. By its very nature, a mobile app is personalized because it's on the user's phone. If you integrate real-time location sensing into the app, you can push out relevant offers based on the customer's proximity to a restaurant. You can also push out relevant offers based on buying history or offers that incentivize customers to come in during off-peak hours.
Mobile apps are also the ideal platform for digitizing loyalty programs and further personalizing the customer experience. For example, apps can track loyalty points earned and push out exclusive deals for program members. They can also serve as a link to your social platforms, where members can post reviews. Alternatively, after a transaction, you can send push notifications asking members to complete surveys or leave reviews at the sites that matter most to you.
Deploy Digital Menus for Price and Product Flexibility
The hospitality industry has long used flexible pricing to encourage traffic during off-peak times and to capitalize on demand during peak seasons. With digital menus — both menu boards and at-the-table menus on tablets — operators can have that same flexibility.
You can change your menu and your pricing easily based on time of day, day of the week for daily specials, or seasonally for special promotions. Changes can be made for individual locations or regions or pushed out to every location at the same time. Plus, you can take advantages of today's high-resolution digital screens to entice customers with realistic images of food choices and feature cross-sell or upsell options to increase ticket size.
Layer Augmented Reality onto Digital Menus and Mobile Apps
Customers can use your tablets — or their own smartphones and your mobile app — to view lifelike, enticing 3D depictions of your actual dishes. In addition, you can make other information like portion size and nutrition information readily available. Simultaneously, you can gather customer preference data by tracking which items viewers spend the longest time on.
Expand Self-Service with Kiosks
Fast food and fast-casual restaurants are investing in kiosks to offer customers a self-service option. Done right, kiosks can meet customer expectations for an easy and fast experience like they are used to getting with ATMs, pay-at-the-pump fueling and self-check-in at airports. For operators, the benefits include order accuracy, line busting, improved efficiency and higher average tickets. Plus, kiosks can offer the same advantages of digital menus — flexibility along with enticing images of menu items.
Equip Servers with Tablets for Table-Side Ordering and Payment
Restaurants that use tablets to integrate ordering and mobile point of sale (POS) solutions in a single device are reaping significant benefits, from increased efficiency (no more trips to the central station for order entry and payment processing) and higher sales (think faster table turns) to a better customer experience overall (faster service, faster payments) and happier staff (better tips and easier ticket splits).
More than 70 percent of restaurant-goers say that technology improves their guest experience. The challenge is finding the right technology for your operations. Get in touch with us and we'll help you figure out which solution is best for your business.
Kyle Utterback is Senior Account Manager at Ingenico Group, North America