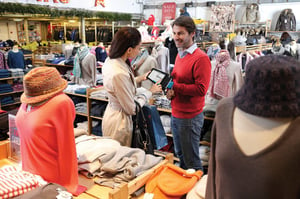 We've all heard the rumors: In-store retail is over. Online shopping is king. eCommerce spells the end for retail stores.
Despite what you may have read in the media, retail is thriving. Physical stores currently account for almost 90 percent of all retail sales in North America, and that number is still predicted to be well over 80 percent five years from now. According to analyst firm IHL, the U.S. retail industry has increased sales by $565.7 billion since January 2017 and showed a net gain of 8,575 new stores. The in-store retail experience is far from over - it's growing.
So, what's the deal with the "retail apocalypse" rumors?
When it comes down to it, eCommerce and physical stores have different benefits. And as it turns out, they are actually feeding each other. Here's some perspective on how:
In-Store Appeals More to the Senses
There's a lot to be said for the in-store shopping experience. One important factor: the ability to interact with products. Many customers prefer to shop in-store for purchases including clothing or food to ensure fit or quality. Over half of consumers said the biggest drawback of online shopping is not able to touch, feel, and try a product. Most customers should be assured what they're buying is what they expect -- and the in-store experience ensures that's exactly what will happen.
Adding to that value, shopping in-store allows customers to walk out that same day with the products they'd like. Nearly 80 percent of shoppers go in-store when there is an item they need or want immediately. Physical stores eliminate what could arguably be the worst part of eCommerce: waiting for your merchandise to ship.
eCommerce Makes Shopping Convenient
There's equal growth in the eCommerce sector as well, however. According to Retail Dive, online shopping conducted through smartphones accounted for roughly $117 billion in the U.S. in 2018.
Online shopping has experienced much of this success based on one principle: convenience. Customers can shop on their phone, laptop or tablet - and at any time of day from any location. Online shopping shows the entire index of store inventory, which can be sorted by size or color preference - and most importantly can all be viewed from a customer's own home. 64 percent of consumers prefer the convenience of online shopping - there's no denying that a major draw of buying online is the sheer ease of ordering from the couch.
Another benefit to shopping online is the ability to compare prices at stores with little effort. 97 percent of consumers are looking for a deal, and being able to scope it out without walking from store to store only makes the process easier. Customers can also quickly search online for coupons and discounts, enhancing the shopping experience.
How They're Working Together to Make a Better Customer Experience
With expected growth from both eCommerce and physical stores, many retailers are looking to (or currently are) leveraging both. Both the physical and online aspects of stores are important, which is why virtually all stores also have a strong online presence. Here are some instances how merchants can effectively leverage multiple channels:
BOPIS: The omnichannel experience is becoming increasingly valuable to the modern customer because it combines the benefits between these two modes of retail. With options like BOPIS (buy online pick-up in store) customers can move seamlessly between online shopping to in-store. They get both the convenience of purchasing from the comfort of their own home and the ability to have the product almost immediately.
Mobile Showrooming: When customers are in-store they can engage in mobile showrooming by using their device to check product reviews, pricing or coupons on the store website. Having an online presence alongside a physical store helps customers to be more informed about the purchases they are making - and thus lead to more satisfaction in the long run.
These are just a few examples showing the power of combining eCommerce with brick-and-mortar. Customers find value in both experiences, and both are here to stay. With the in-store retail environment still experiencing growth year after year, merchants are just finding ways (including incorporating eCommerce) to reinvent the customer experience.
So, no -- the physical store isn't dead.
To view IHL's full research on the state of retail and store opening read the full report here. If you're looking for more information on improving your retail business, drop us a line!
Kylie Everhart is an Account Manager at Ingenico Group, North America