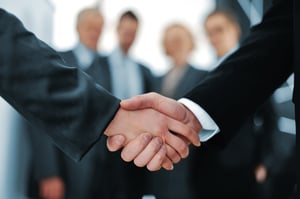 The new year is here and ISVs, ISOs and VARs continue to play a crucial role in delivering innovative business solutions into the markets they serve. But for many of these organizations, payment technology is not a core competency, and it doesn't to be.

One trend that we see across industries -- from retail to hospitality, restaurants to services -- is considering the customer or guest experience during the payments transaction. What is the best way to use payments to improve these experiences? Or how can we change the experience entirely for the better?
As part of improving the customer experience, ISVs, ISOs and VARs need to understand how to integrate payment technology into their solution, how it will impact the customer experience and the technical and security benefits it can bring to their overall solution. Selecting payments technology is no longer all about price and availability – it's an important and impactful part of a business solution. You should ask: how does this technology fit into my solution picture? Does it align with our long-term plans? How will this make the overall customer experience better?
A payment technology partner can help to answer each of these questions and make it easy for ISVs, ISOs and VARs to integrate payment technology with their business solutions.
Here are five markers of a good payments technology partner:
1. Technology and Solutions Reliability
The right technology is at the core of any payment solution – and that technology must be adaptable. Ideally, the solutions should easily handle any transaction volume and accept all forms of electronic payments, including magstripe, EMV and NFC/contactless methods, such as mobile wallets like Apple Pay and Google Pay. Flexibility is essential to accommodate the expectations of all customers such as a college student who wants to use mobile wallets to tap and go whereas a senior citizen still wants to use their credit card.
From a software standpoint, the best technology partners will offer pre-certified solutions that are compliant with the latest requirements and certifications listed by the PCI Security Standards Council (PCI SSC). This makes it easier for developers to get to market quickly without having to worry about recertifying the solutions themselves – which can be very expensive and time-consuming. And with security becoming a growing concern, providing point-to-point encryption (P2PE) and tokenization is now a must-have with any payment technology partner.
2. Support for Multiple Industries & Use Cases
Whether you work in retail, restaurants, hotels, services or healthcare, your payments technology partner should offer solutions that support your needs. Not only does this show expertise in a wide range of industries but it also ensures that your partner is prepared to help you attract and service customers as you move up or down your market or into a new one. When evaluating possible partners, look for one that is adaptable and well-versed in the vertical markets that align with your business objectives.
3. Industry Insights to Stay Ahead
Every ISV, ISO and VAR is looking to stay ahead of the curve -- the ideal technology partner can help with this. They should make sure you remain well informed of the latest trends, standards and requirements in the payments industry and the vertical markets you serve. This will enable you to keep your solution attractive and competitive.
One good way to judge the level of expertise of your payments technology partner is the affiliations they have with leading payment industry and vertical market associations. These include EMVCo, the U.S. Payments Forum, ETA, National Restaurant Association (NRA), National Grocers Association (NGA), National Retail Federation (NRF), Hospitality Financial and Technology Professionals (HFTP), Healthcare Information and Management Systems Society (HIMMS), etc. They should proactively offer access to their subject matter experts which can benefit your business.
4. Elevate Your Brand with Marketing Support
Marketing your solutions successfully is as important as developing them. This is where a payments technology partner can combine their expertise in payments, the markets you serve, and marketing to help generate demand for your solutions. They should be able to help you build awareness and drive sales with comprehensive marketing support, insights and assets. This includes tactics like – demand generating and awareness campaigns, content, co-branded collateral, social media support, events and tradeshows.
5. Sales, Product & Technical Support
As an ISV, ISO or VAR, you will require support for sales, product and technical matters to ensure you're meeting and exceeding the expectations of your customers. A good technology partner will provide an account team for troubleshooting support and questions or issues that may arise.
Additionally, your partner should offer the expertise of their engineers to help provide technical information to your customers and prospects. Their product team should deliver training and insights to help you better understand and prepare for coming changes in payment technologies and regulations. This support should extend throughout the relationship.
Find Your Technology Partner
Choosing the right payments technology partner is a big decision and can help you maintain a competitive edge in the market. We put together this checklist to help find the technology partner that is best for your business needs.
Bradford Giles is the Senior Vice President, Marketing and Sales Enablement at Ingenico Group, North America