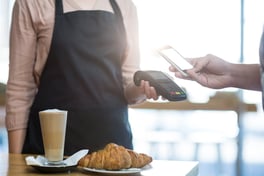 Do you remember the wonder in your eyes when mobile wallets were first introduced? The idea of just simply tapping your smartphone on a payment acceptance device to pay seemed magical and in many ways, it was! The fact that you didn't even have to take your credit card out seemed like a dream and it made you think that someday you could leave your wallet behind at home.
Since its introduction though, mobile wallet adoption has been slow. But it seems to be picking up again. According to a Speedpay Pulse Mobile Trend report, 24 percent of consumers use mobile wallets on a daily basis, and another 40 percent use them weekly. As contactless payment methods continue to gain steady traction with consumers, accepting them can be a differentiator for retailers. Here's why:
Offering Payment Options
What is the most valuable payment method that retailers can offer customers? It's a trick question ⁠— the answer is the ones your customers want to use. When it comes to making a payment, consumers have varying preferences ⁠— the best thing your business can do to create positive experiences is offer a variety of payment options and make sure your customers know about them.
Speaking specifically on mobile wallets (such as Apple Pay and Google Pay), consider this: individual consumer smartphone ownership nearly doubled in a five-year span, from 42 percent in 2011 to 81 percent in 2016 ⁠— all of which come enabled with mobile wallet capabilities. Giving customers the choice to pay with their phone is a simple way to make them feel accommodated. It also signals that your store is innovative and tech-savvy.
Prioritizing Speed and Convenience
Whether it's in-store or online, mobile wallets provide customers with the convenience to pay quickly and be on their way. With consumers becoming increasingly comfortable with contactless technology (take New York City's OMNY system, which saw 10,700 taps in the first weekend) many are expecting that same seamless experience in retail.
According to a recent SpeedPay Pulse report, 55 percent of American adults surveyed stated that they value the speed a mobile wallet offers to pay a bill. Tap-and-go mobile wallet technology significantly cuts down transaction time, which can make a big impact on a customer's overall satisfaction with their shopping experience.
With online purchases, mobile wallets can streamline the checkout process with minimal setup. They can even make it so the customer doesn't need to pull out a card to complete a transaction.
Exploring Secure Methods
A key element impacting a customer's overall experience is feeling that their data is safe. In the 2017 Cardtronics Health of Cash survey, 84 percent of respondents described themselves as worried about data security when it comes to payments. Mobile wallets actually offer a number of security benefits that merchants and their customers can appreciate.
By using strong authentication practices, monitoring and data encryption, mobile wallets help to ensure that payments are secure. A key feature that this particular payment method utilizes is tokenization, which replaces sensitive card data with a token that, if stolen in a breach, has no value to the thief.
Driving Store-Branded Credit, Loyalty and Rewards
Retailers can also find ways to make mobile wallets a more personalized venture ⁠— stores like Kohls and Target offer their own payment apps that link barcode-or QR code-based payments to company-branded credit cards. This can also make it easier to incorporate loyalty and rewards programs for mobile wallet users.
Mobile wallets are becoming a focus for consumers in the U.S., and retailers should take note of this in their payment strategy. This on-the-go payment method is secure and convenient, and businesses looking to offer flexibility to their customers should equip themselves to accept all kinds of payment methods. If you are looking to upgrade payment technology in your business and don't know where to get started, drop us a line.
Ryan Ahern is Payments Solutions Manager at Ingenico Group, North America