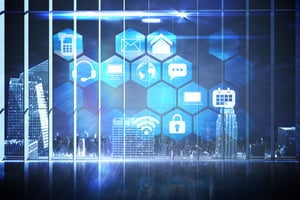 If history has shown us anything, it's that the overwhelming world trend is toward urbanization. In 1950, there were only 85 cities with over one million people. By 2000, there were 387 cities with over one million people. By 2050, the U.N. expects that 68 percent of the world's population will live in urban cities.
This is a trend that shows no signs of slowing down – 1.3 million people move to cities every day. With this momentum underway, the focus has shifted to a solution that can help city infrastructures support this influx of occupants: smart cities.
How Can Smart Cities Help?
Smart cities can directly mitigate the stressors put on a city with millions of residents. For example, they can manage energy and water consumption. Major cities account for 60-80 percent of world's annual energy needs with 19 percent alone needed for lighting. Smart cities can help reduce these energy inefficiencies and waste. They can also aid sustainability by monitoring pollution levels and informing citizens how their actions impact air quality, water runoff and wildlife counts.
Smart cities are especially unique in that they provide the opportunity to augment the citizen's lifestyle, offering better environment quality, safety warnings and intuitive ways to make each of these routine tasks more seamless. One-way smart cities incorporate all three of these factors is through transportation - the backbone of every city.
Transportation is one of the main ways citizens interact with their environment and here's how smart solutions can make it better:
Traffic Management.

The interconnected grid of a smart city lends itself to a brand-new way of travel. Sensors in roadways and street lights can help with management and reduction of traffic, or even incorporate real-time weather and incident alerts into routing options. Connectivity will greatly improve the conditions of everyday traffic.

Open Payment Systems.

With a smart city, citizens can take advantage of open payment systems for transit. Without the need for a designated subway card or a bus ticket, smart cities allow citizens to pay for any mode of transit with whatever is currently in their wallet. This helps to streamline the travel experience -- no need to load up a travel card or hand cash off to a machine. The most recent U.S. example of this system comes from New York MTA's launch of OMNY – their contactless fare payment system. As an added benefit, this system is also ideal for visitors and tourists.

Parking Accessibility

. Using embedded sensors, smart cities can greatly improve the parking infrastructure for both citizens and city officials. Citizens will have access to real-time parking availability, lessening the frustration of finding a spot, and officials will have real-time information on the use of certain parking areas, helping them to adjust their prices accordingly.
Picture this:
A man wakes up, late for work. He gets an alert to his phone.
[CITY ALERT!] Construction on Main Street. Fastest route to work: subway red line to West 36th, then taxi to the destination.
He scrambles to get ready and heads down to the red line. He breezes through the turnstile using his mobile wallet to gain entrance.
[CITY ALERT!] Get off the subway in three stops.
He orders an Uber and hops off the subway a few stops later to catch his ride in time, which drives him around the construction and drops him off at the front door of work just in time. He gives the driver a wave and runs inside.
[CITY ALERT!] Trip completed. Total fare paid for subway and Uber: $8.54
As cities continue to grow, smart cities could be the natural solution to augmenting the citizen experience and eliminating stressors. Interested in learning more? Drop us a line!
Christopher Tyghe is Vice President of Strategic Development at Ingenico Group, Canada