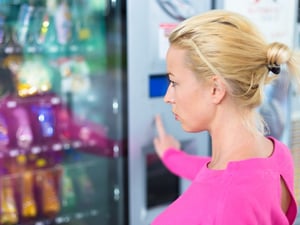 The demand for kiosk and vending solutions is growing. The second annual Kiosk Market Census Report found global interactive kiosks — not counting vending machines, ATMs and mounted tablets — reached $9.22 billion in 2019, marking a 17.6 percent 1-year gain and surpassing the prior year's growth rate. The estimated value of the global intelligent vending machine market by 2025 is forecasted to be $15 billion.
Kiosk and vending machines provide customers with convenience, but it also gives them control of their purchasing experience. These solutions assist with providing convenience in shopping without a consultative experience as these customers might already know what they want. In other instances, it can help businesses automate certain tasks and reallocate personnel resources to other areas of the business thereby improving efficiency.
Today we see unattended solutions being implemented across many verticals. In the travel industry, interactive kiosks help travelers print boarding passes and drop their bags without the help of any staff. In malls and retail environments, vending machines provide consumers options to purchase products without consulting a store associate. It also allows businesses to create purchasing opportunities in areas where they normally wouldn't be able to have a storefront. With this increasing demand, more businesses are thinking about implementing unattended solutions in their business. But before they do so, they need to keep these three considerations in mind:
1. Acceptance of EMV and Contactless Payment
Kiosk and vending machine solutions need to be able to accept the latest payment methods including EMV chip and contactless. This not only makes sure your unattended solutions accept the most secure forms of payment, but they also provide customers with the convenience of paying with their preferred methods. With high adoption for EMV and contactless payment methods in the U.S., consumers are more aware of the security benefits of these methods over magstripe. If a vending machine or kiosk doesn't accept EMV cards or mobile wallets, these customers may take their business elsewhere.
2. Inclusion of PINPad in the Solution
According to Statista, in 2017, the total number of debit cards in the United States was expected to reach approximately 5.61 billion. With such high penetration of debit cards in the U.S., businesses implementing unattended solutions need to make sure they consider the need to accept PIN-based transactions with the inclusion of a PINPad in their solutions. This way, they provide consumers a safe way to enter their PIN and help build trust with your brand.
3. Deciding Between Attended or Unattended Components in the Solution
Self-service solutions can often come in modular formats where they are fitted with regular payment acceptance devices that you often see in a checkout-counter environment. A typical example of this would include a retail self-checkout aisle where customers can easily scan and pay for items by themselves. The other modular format is pure unattended, which incorporates components that are made for the self-service environment. Good examples would include bill paying kiosks and beverage vending machines where the payment acceptance device is fully integrated within the kiosk or vending machine enclosures.
Businesses implementing unattended solutions need to ask themselves which type of payment acceptance solution will work better for their use case and customers.
Future in Kiosks and Vending Machines
Consumers are becoming more comfortable with new technology and they expect payment options that align with their individual purchasing preferences. As the kiosk and vending markets reach new heights, it will be imperative for businesses to keep up.
Organizations that are forward-looking will need to provide customers with fast, convenient and secure ways to shop and pay that enhances their overall buying experience. Get in touch with us and learn more about implementing kiosk and vending solutions in your business.
Bruce Rasmussen is Director of Sales, Strategic Verticals at Ingenico Group, North America