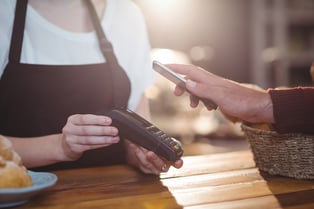 The idea of paying with your phone or your watch at a store almost seemed laughable a decade ago. The typical US consumer was so accustomed to using cash or their credit cards, they had a hard time trusting the reliability of this payment method. Contactless payments have had a slow growth in the U.S. compared to other developed parts of the world – if you look at consumers in Canada and many European nations, they have been used to contactless payments for years and the U.S. has had to play catch up since.
But 2020 has changed everything. The COVID-19 pandemic has made people wary of using cash and in some cases, even touching the payment acceptance device while they pay with their cards. As stores take safety measures to clean the terminals regularly, one of the easiest measures they can take is by accepting contactless payments, including mobile wallets such as Apple Pay, Google Pay, etc. This allows consumers to only tap their contactless cards or phones to complete the transaction making their experience contact-free. Retailer such as Publix has led the way to quickly enable this payment method and offer consumers a safer environment to shop for essentials making it one less thing to worry about. A recent report from 451 Research also notes that this pandemic may act as a catalyst to increase the adoption of contactless payments in the U.S.
While the immediate benefit of accepting contactless payments in your businesses is clear, there are many other reasons why you should look to adopt this technology.
Safety & Security:
In addition to providing a contact-free option to pay, which is useful during a global health crisis, contactless payment methods are also safer to use compared to magstripe. In the case of mobile wallets, such as Apple Pay, Google Pay, etc., consumer's credit card data is further encrypted and hidden behind their phone's lock screen which can only be accessed by them. By accepting contactless payments, you provide your consumers with the peace of mind that you have their safety and security in mind.
Convenience & Speed:
Contactless payments also provide the convenience of faster checkouts. Consumers can just tap their cards or mobile wallets and be on their way. One of the best examples of this application has been in transportation with the OMNY implementation at the MTA subway stations in NYC where customers can just tap their phones or cards and go through the turnstiles - saving them time as they catch their trains. If they are visitors or not regular commuters, they don't have to spend time getting a MetroCard to go through the turnstiles.
No matter what vertical markets you serve – retail, restaurants, hospitality or healthcare, contactless payments can provide your end customers with the same convenience of paying quickly and securely.
Loyalty & VAS:
As the popularity of contactless grows, businesses should also take a closer look at this payment method to help build loyalty with customers and grow their business. One of the key ways they can achieve that is with value-added services (VAS). When integrated, mobile wallets with VAS enable customers to easily enroll and redeem rewards in loyalty programs. With this integration, merchants can take advantage of:
Easier signup – Enrolling customers into your rewards program can be a big challenge, but if the signup and redemption processes are easy – more shoppers are likely to opt-in.
Rich data for businesses - With more signups, you have access to additional data to learn about your customers and how to better serve them.
Personalization & engagement – While the payment and loyalty process is being taken care of by mobile wallets, your staff gets more time to engage with the customer and provide them with a better experience. You can also personalize offers and discounts and push them to your customers on their phones and give them additional reasons to shop with you.
Emotional connection with customers – In addition to improving the overall experience for customers, the ease and convenience of mobile wallets can help your brand to build a strong emotional connection with your customers which can go a long way.
Future of Contactless Is Here
While the global pandemic may serve as a catalyst for contactless payment adoption in the U.S., the benefits it offers will stay well beyond after the crisis is over. Some merchants can make use of the most immediate advantages of the technology with speed, convenience and security. You should look into value-added services and how they help tie customer convenience, data collection, personalization and an emotional connection together. Among other technological investments, a strong mobile wallet strategy can help businesses grow stronger and keep their customers coming back for more.
Interested in learning more about how contactless can help your business? Get in touch with us and speak with an expert!
Mark Bunney is the Director of Go-to-Market Strategy at Ingenico Group, North America