All any retail business wants for this holiday season is their customers to be happy and their revenue to increase. However, over the years, eCommerce sales have grown compared to in-store. With the success of giants like Amazon and other players in the market, brick and mortar businesses have started to think about reaching their customer base in new innovative ways and get them back into the store. But maybe, it is not about that. Consumer preference on how they shop are evolving and they are using each channel differently.
On one hand, eCommerce provides customers the convenience of shopping from their couches. Their merchandise gets delivered right at their doorstep and in many cases, the delivery is also free. On the other hand, visiting a store gives customers the opportunity to see and feel the merchandise up close. If they are buying apparel, they can even try items on to see how they fit them. Shopping in-store also had the added benefit of being assisted by the store staff who can provide product information and answer any questions customers may have.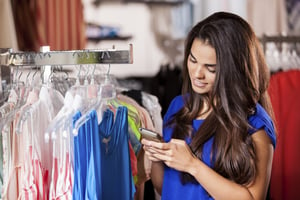 While in-store and online compete, trends in Deloitte's holiday retail survey suggest that shoppers no longer consider them separate. Consumers have their own reasons to prefer one channel over the other depending on what they buy, but they end up using them both in different ways. This is where retail businesses that have a presence on multiple channels can rethink their strategy to reach their customers better with the experience they want. Based on the survey here are three trends that can help you make your channels work together:
1. Research Online, Buy In-Store:
According to Deloitte's survey, 69 percent of holiday shoppers are expected to research products online and make the final purchase in-store compared to 66 percent in 2018. Merchants should look to enhancing their online presence and provide additional product information and customer reviews - that can help add validity to their offering. You should also make sure your online and offline experiences match so consumers don't notice much of a difference when they think about your brand and shop on either of the channels.
2. Research In-Store, Buy Online:
According to the same survey, 57 percent are also likely to research products in-store and then make their final purchase online compared to 54 percent in 2018. Many younger customers in these situations might engage in mobile showrooming, where they end up browsing the same product online to find a better price or deal. In these situations, you can look to enhance their experience by using mobile technologies such as mobile POS solutions to provide comprehensive product information and maybe match the cheaper price they've already seen online.
3. Buy Online, Pick-Up in Store (BOPIS)
According to the survey, the preference for buying online and picking up in-store has remained steady at 47 percent compared to 2018. From a customer convenience standpoint, BOPIS has a lot of value and can be successfully implemented to create efficiencies in your business. The key here to first make sure you have the proper infrastructure to implement it. By allowing the customers to pick up their orders in-store, you have the opportunity to upsell complementary products that can help raise the average amount spent in your business.
Looking at 2020
Even though these trends are very recognized in the context of the holiday season, I believe we might see these being more commonly implemented as we enter into the next year. Consumer preferences and demands are changing and the way they shop is also evolving. Businesses need to adapt to these demands and continue to delight their customers no matter the channel they might shop on.
If you need assistance in thinking about your retail strategy for 2020, get in touch with us.
Thomas Luke is Senior Sales Executive at Ingenico Group, North America