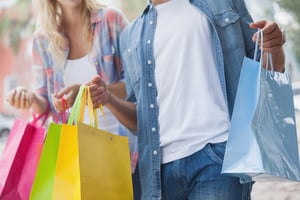 Buy online pickup in-store (BOPIS) is an increasingly attractive option for consumers. According to Business Insider, 68 percent of US consumers have made numerous click-and-collect purchases. What's more, 50 percent of shoppers said that being able to pick up their order in-store has influenced their decision of where to shop. The data speaks for itself and in addition to the strong desire from consumers, there are benefits of click-and-collect purchases for businesses when it comes to providing a great customer experience and maximizing revenue. Let's take a look at a few of them:
More interaction with customers
Although everyone is talking about online retail, it doesn't allow for the face-to-face interaction that in-store does. Still, many consumers prefer to do their browsing online. With a BOPIS offering, consumers can browse and buy from the comfort of their home and then come in the store to try on/physically touch their items before leaving the store. This way, they won't have to deal with the stress of returning online purchases and placing a new order for the correct size, color or item. Customers can either swap items right in-store before they leave or have a staff member help them place a new order.
A chance to upsell
So you've implemented a BOPIS offering and you've got your customers in the store. How are you going to take advantage of impulse purchasing? 85 percent of shoppers say that they've made an additional in-store purchase while picking up an online order, and 15 percent say that they do so "somewhat frequently." One way to encourage these purchases is for staff members to know what has been ordered and suggest complimentary products on a mobile solution. These solutions allow staff to check remote inventory, check prices and answer questions about product features, which can also be helpful if customers need to exchange the item they bought online. An additional easy way to upsell once customers are in the store is to put the types of items that they usually buy impulsively near the online order pickup area.
Create loyalty
Another benefit of offering buy online pickup in-store to your customers is that you can push deals and promotions for future BOPIS purchases. 45 percent of consumers indicated that the biggest incentive that would push them to use BOPIS more often is "deals or savings on future purchases." Customers already love the idea of shopping online and picking up their items in store and offering encouragement to do so will create loyalty for future purchases, which should be a main goal of any retail business. Offering discounts to customers who choose to use BOPIS will not only get them in your store (as opposed to solely online) more often but yield strong repeat business.
Retail is always evolving
As the retail landscape continues to change and expand, businesses need to stay on top of what customers are asking for. This way, they can be sure to provide the best possible customer experience and maximize revenue. Implementing a click-and-collect offering is a step retailers should definitely consider taking.
What are your thoughts on BOPIS both as a consumer and a business? Let us know in the comments!
Bradford Giles is Senior Vice President of Marketing and Sales Enablement at Ingenico Group, North America